A comprehensive lesson plan for Commerce class 9 is a crucial component of the learning process and can be described as detailed course instructions or learning trajectories for teachers. Your lesson plans not only outline everything you'll do in a particular class, but they can also be shared with substitutes so they may teach the class if you're absent due to illness and administrators can use them to observe your classroom and give you feedback. Although creating a lesson plan for Commerce class 9 may initially seem difficult, trust a former teacher when she says that it will quickly become second nature. In this post, we'll show you how to use your lesson plans to become a better teacher, go over what to include in each lesson plan for Commerce class 9, and go through an example of how a class may appear depending on your plans.
Things to Be Aware Of
A lesson plan covers the material you'll cover in a specific lesson and offers reasoning for your decision to do so.
Every lesson plan for commerce class 9 needs to have an objective, pertinent standards, an activity timeline, a class overview, assessments, and the necessary teaching resources.
In case your lecture concludes early, over plan, and adjust your plans as necessary to meet the needs of your students.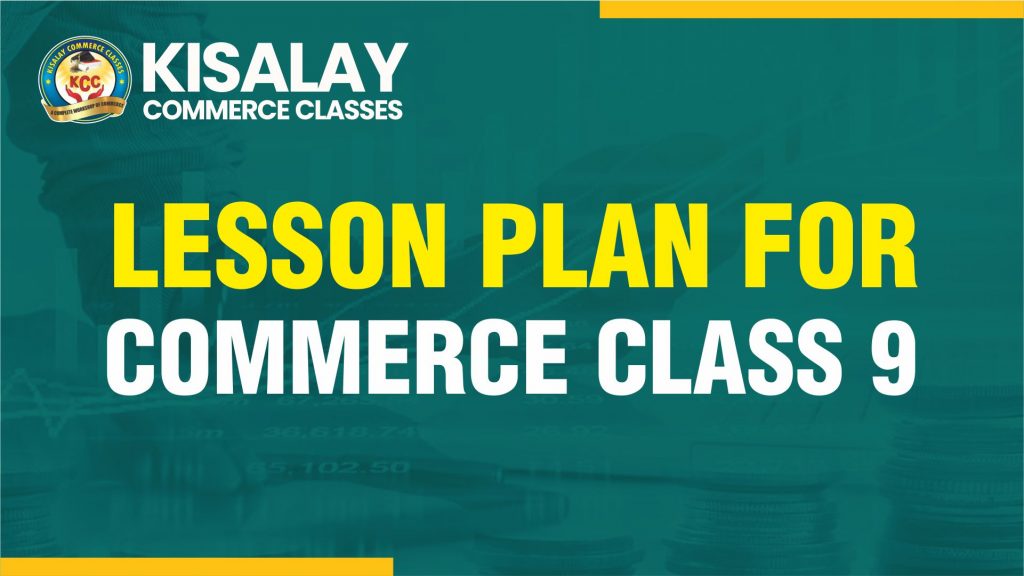 Lesson Plans for Commerce Class 9 are developed on a daily basis by the class teachers to guide class learning.
Experienced teachers may make it briefly as an outline of a teacher's activities. The new teachers create a semi-detailed lesson plan that covers all activities and teacher-generated questions.
A trainee teacher should make a detailed lesson plan for Commerce Class 9, 10, 11, and 12, in which all the teacher's questions, learning activities, and students' answers are written down.
Read Also- Exploring Career Opportunities in Commerce Students: Navigating the Path to Success
Components of the Lesson Plan for Commerce Class 9
Lesson Plan for Commerce Consists of Mainly 3 components:
General Objectives
It is the total knowledge the youngster has acquired. It aids in teaching in the real world.
It includes:
Knowledge Objective: Students will be able to get knowledge about the specific topics of Commerce
Understanding Objectives: Students will be able to understand the concepts of the specific topics of Commerce
Application Objectives: Students will be able to apply the attained knowledge in day-to-day life.
These are:
Drilling is an activity that allows pupils to respond automatically to prerequisite abilities for a new lesson.
Review: An exercise that renews and refreshes previously taught material.
An exercise that will establish the goal of the lesson for the day's introduction.
Activities that pique both intrinsic and extrinsic interest in students are motivational.
These include
Presentation of the Commerce Lesson: The teacher uses different activities as a vehicle to translate the knowledge, value, and skills into learning that could be applied in their lives outside the school.
Discussion Analysis: The teacher asks a series of effective and cognitive questions about the lesson presented
Abstraction/Generalization: The entire material is summarized before the presentation itself.
Closer/Application: This relates the lesson to other situations in the form of
Dramatization
Simulation and Play
Storytelling
Oral Reading
Construction/Drawing
Written Composition
Singing or reciting a poem
A Test
Or Solving Problems
It is a technique or means of determining whether the goals of the earlier lessons have been attained. This category includes:
Questioning
Summarizing
Comparing
Presenting the previous learning
Assigning work
Administering a short quiz
Assignment:
Outside of the classroom or at their homes, teachers arrange this activity. Students bring the necessary materials to class.
The activities should assist students meet the lesson's objectives
It should be engaging and differentiated (with space for remedial, reinforcing, and enrichment exercises).
Why should you join Kisalay Commerce Classes Commerce Class in Ninth Grade?
We are the top providers of Commerce classes for students of all age groups including those studying in classes 9, 10, 11, and 12. With over 11000 students we served in the last decade, our popularity among students who wish to establish a career in the commerce field. We offer online as well as offline classes keeping in mind the convenience of students.
Students will have access to both live courses and lectures that have been recorded for later viewing. Additionally, each lecture's PDF notes and daily practice papers (DPP) will be distributed to the students.
Thousands of hours of academic lectures were delivered in both offline and online classes.
We have experience in teaching students pursuing CA, CS, CMA, CUET, B. Com, and higher school students studying in classes 9, 10, 11, 12, and more. We have started various batches to ensure minimum student density and maximum courseware exposure.
Various batches for a particular preparation. There are CUET batches for classes 11 and 12. Several batches will be available for use in different courses.
Most Interesting Lesson Plan for Commerce Class 9
Our teachers are well seasoned and qualified to understand the value of an effective lesson plan for commerce class 9. They bring together their years of experience and learning skills to devise the perfect lesson plan to ensure exposure to topics and less hindrance from daily obstacles.
Here are all the details of the topics covered in the lesson plan for Commerce Class 9 available at Kisalay Commerce Classes.
9th Grade Lesson Plan
For pupils in commerce class 9, this batch will cover all pertinent themes and topics. You will study Accountancy, Economics, Business Studies, Applied Math, and Core Math at the beginning of class 9. Special faculties will be available for answering queries.
It includes:
Accountancy, Business Studies, Economics, Applied Mathematics, and Core Mathematics will be covered in the class 9th Commerce lesson plan for the academic year 2023–2024.
Live lectures and notes will be available on our Kisalay App for all classes. Any lesson you were forced to miss can be viewed later on a recording. All students will have access to the class notes in PDF format following the lesson.
Study Guide: For Commerce class 9 Live sessions, students will receive a study guide that includes recorded lectures, notes, daily practice problems, and video solutions. A Daily Practice Problems Sheet (DPP) and the related solutions will be provided for each lesson.
Live Doubt Classes: Kisalay Commerce Classes offers top-notch faculty for resolving doubts. There will only be live sessions for students to ask questions. Students will be able to interact live with our top faculty members who can clear out their doubts about it. Every query will have an answer from the Doubt Engine.
Test Series: Classes will initially meet five days a week, increasing to six. Tests will start off every two weeks, then every week. Batch shifting is not allowed, though.