Our lives have become easier thanks to smartphone apps in this era of increasing digitalization. There are now several educational applications available for students, assisting them in studying in a fun and simple manner. Students today are motivated and rely more on mobile apps than textbooks for their academic work. Commerce enthusiasts who want to learn and study on the go can use our Kisalay Commerce Classes app – the best app for commerce students in India. It has emerged as the leading app for commerce studying at Kisalay Commerce Classes.
For the past few years, Kisalay Commerce Classes App has improved the manner that commerce students learn. Since its foundation as a mobile, easy-to-access learning platform, this educational app has been downloaded more than 10 million times. The following list highlights a handful of standout benefits offered by the Kisalay Commerce Classes App – The best app for commerce students.
Interactive Video Lessons
Adaptive Learning
Topic Wise Coverage
Educational Games
Personalized and interactive learning
Mobile and portable
Live tutorials and sessions
Mock tests and practice sessions
Multilingual support
Progress Tracking
24/7 technical support
The more you explore the app, the more you will be amazed by its features and the opportunities it offers to streamline and simplify your learning process. Kisalay Classes offers the best app for commerce students in the market, although it comes free with the courses you join at Kisalay Classes, learning enthusiasts can download its trial version to get a feel of the app at their fingertips.
We offer free downloads of CBSE guess papers, exam-ready materials, and question papers.
How does the Kisalay Commerce Classes App help achieve the best results?
Students enrolling in the Kisalay Commerce Classes with the goal of becoming unbeatable professionals can make their learning more productive and easier with this best app for commerce students. For coaching CS, CA, and CMA aspirants both online and offline, this app can help them in many ways from solving doubts, and video tutorials, to mock tests, analyzing performances, access to top study material, parent monitoring, and more.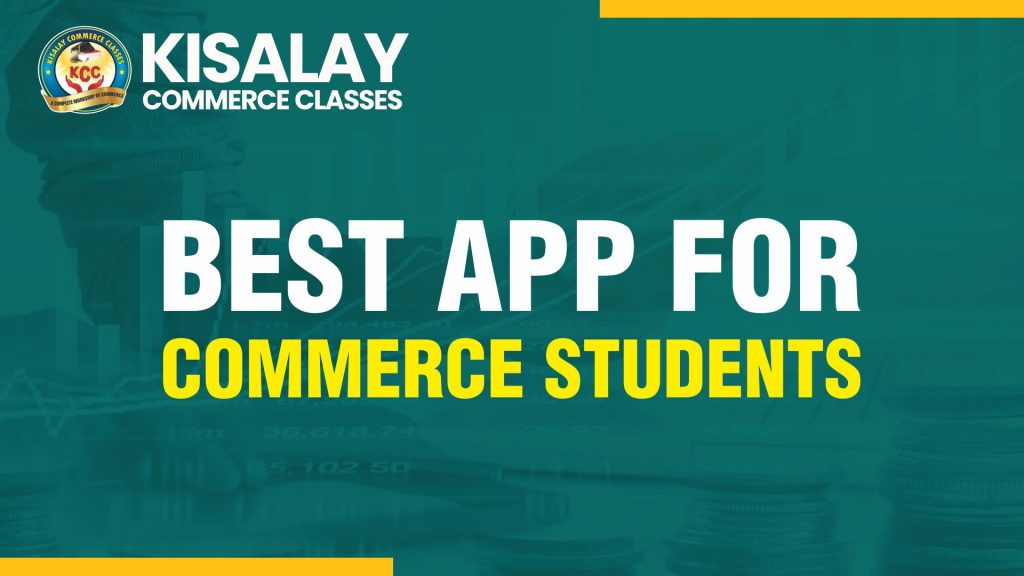 Helps you connect with the best teachers available at Kisalay Classes that strive to offer top-notch education for a better future. It is acknowledged as one of the top online apps for CA Foundation, B.COM classes, CUET preparations. 11th and 12th-class commerce students can receive online coaching through this app even if they miss out a class or two.
Kisalay Commerce Classes App takes care of everything for you, from giving you "all concept videos, notes & mock tests" to "analyzing your progress" and "resolving your doubts"!
Prepare with topic-wise video lectures and review materials based on the CBSE Syllabus for Accounts, Business Studies, Economics, Math, English, and Hindi.
Test your knowledge by taking practice exams and topic-specific questions based on previous test results and NCERT textbooks.
Analyze how you performed: Obtain thorough analysis reports for each test, find your areas of weakness, and strengthen them.
Discuss and have your questions answered in our extensive online community of Commerce teachers and fellow students. Connect with others who share your interests.
Lots of practice tests and question papers based on the CBSE, ISC Boards Exam formats can help you prepare effectively for the test.
The app monitors your progress and understands you as you learn from it and identifies your skills, shortcomings, and areas for improvement. It functions like your own personal teacher.
The best app for Commerce students is easy to navigate with multilingual support, login and log out with a just click, and is equipped with a user-friendly interface and video-based content.
Students can access Live-tutorial programs and it even works in offline mode.
It connects you with social media platforms and is customizable to your learning needs.
Compatible with all types of Android and iOS platforms.
For pupils, Kisalay Classes learning online app works toward three objectives:
Learning should be enjoyable rather than tedious and frustrating.
No matter where you are, you should receive an education of the best caliber.
You or your parents shouldn't be required to pay a lot of money for high-quality instruction or coaching
Get all study materials—including books, notes, videos, and tests—in a systematic manner from the best instructors and publishers on our best app for commerce students:
Subjects and Study Material available on Kisalay Commerce Classes App
Economics: Study economics online, understand the subject; class 12 economics textbook, practice exams, textbook, and answers to the previous year's papers
Business Studies: a textbook for class 12 in business studies, a mock exam, and prior year papers for 2022
Accounting: textbook for class 12 accounts, mock exams,
Class 11 commerce study syllabus covered by all subjects in the best app for commerce students.
Class 12 commerce study syllabus, including board exams, is covered by the app.
Class 12 commerce app contains past year's papers and example problems that have been solved
The commerce study app includes free textbooks for CUET preparations, and CS, CA and CMA study material, as well as commerce textbooks.
The Kisalay Commerce Classes app has content for CUET Exam preparations that can be viewed for free in half of its entirety. Students of Kisalay Classes can access everything on this app for free.
Course Highlights
Live and recorded sessions – Until the Commerce 2023 test, students will have access to the whole course, including both live and recorded sessions.
More than ten practice exams are available to help you increase your speed and accuracy.
Syllabus – The top instructors in Kisalay Commerce Classes will finish teaching the entire, most recent Commerce syllabus on schedule.
Study materials – To assist you in getting ready for the Commerce exam, you will be given notes and other study tools.
Daily practice problems – Daily practice problems will be given together with lectures, along with video solutions that are formatted as quizzes.
The best doubt-solving engine will be used by committed educators to answer any questions you may have.
Conclusion
Kisalay, Classes offering the best app for commerce students, is a top-tier technological platform that aids students in their commerce studies from foundational concepts to advanced topics as well as exam preparations. Our huge base of satisfied commerce students is living proof of how well our best app for commerce students has performed to give them a competitive edge. We have worked day and night to make this app the best for online learning. The end result was a unique, thorough, and distinguished product. Here, you can see how we assisted the students in achieving their career goals.
Interested in learning from the best app for commerce students? Sign up now with Kisalay Commerce Classes App and begin your journey for a successful career.