Don't know which is the best Academy of Commerce Near Me? Well, don't worry. Most students who aspire for a career in Commerce face the same problem at some point in life. Whether they are in intermediate school or working in a company or preparing for National Level exams, every student has a different purpose to attend Commerce classes to enhance their academic footprints. Some want to become CA or CS while others just want to get promotion in their current organization. But they want to do that without leaving the comfort of their home city. They don't want to travel hundreds of kilometers every day to attend classes. Students in faraway remote locations don't have any academics or commerce near their place of living. They have to choose between leaving the comfort of home and changing jobs to migrate to a city booming with opportunities in commerce or simply just drop the idea.
If you too, are going through the same dilemma, then fear not, as you have come to the right place to get started with your career in Commerce. Regardless of which city you put up or plan to migrate to, here at Kisalay Commerce Classes one can attend classes without leaving the comfort of your home whether you are an intermediate student, working professional and preparing for the CUET exam. Kisalay Commerce Classes is the best option for students looking for an Academy of Commerce near me.
Today is the era of online classes. We have been offering online classes for students studying in 9th, 10th, 11th and 12th classes as well as those who are preparing for CA, CS or CMA exams for last 9 years. Apart from this, CUET aspirants can receive significant help to ace the exams. Our network of knowledgeable and experienced instructors provides individualized one-on-one instruction in the convenience of your home. We make it simple to discover a tutor who meets your needs with our selection of disciplines and accommodating schedule.
Why Choose Online Classes at Kisalay?
Not all of us are privileged to live in the proximity of the best Academy of Commerce Near me. Due to which we either migrate to other cities to learn and find jobs. But with Kisalay Commerce Classes, learning at home becomes a joyful experience due to a wide range of benefits, some mentioned below.
Superior quality curriculum
Having 9 Years of experience
Recipient of Achiever's Award for Best Career Counseling From I-Next
Personal attention given to Each Student
Regular Classes in Online & Offline mode and Complete Notes of each Subject-
Experienced Faculty
Smart Classes
100% Growth
Well-furnished Infrastructure
Live course and study material
Interactive video lessons
Adaptive and flexible timings
Occasional lectures from industry stalwarts
Reduced tuition fee
Students enroll in the Kisalay Commerce Classes with the goal of becoming unbeatable professionals. For coaching CA, CS and CMA aspirants both online and offline, this institute is well renowned. The best academy for Commerce Near Me with the best teachers strives to offer top-notch education for a better future. It is acknowledged as one of the top online commerce coaching classes for 11th and 12th and CS/CA/CMA/B. Com students. For CUET and B. Com exams, we also provide online preparation coaching through an app.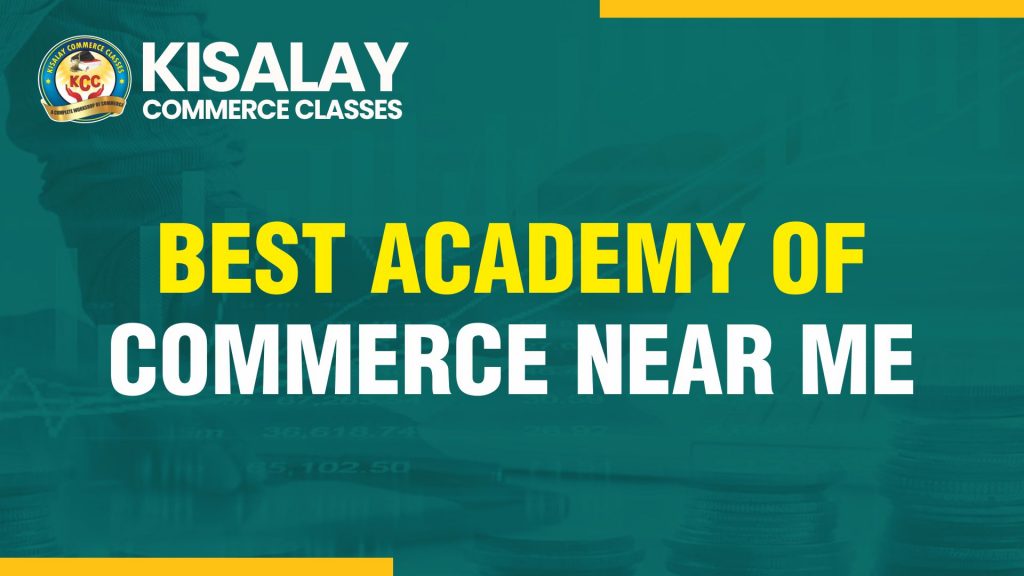 We have a team of 12 best teachers offering classes in 8 courses designed for students of all age groups. We have served more than 11600 students out of which 8675 have expressed their deep satisfaction with the quality of education and career opportunities offered by Kisalay.
Courses We Offer
Higher Secondary Level Commerce Classes: The school years of 11th and 12th serves as an accessible and engaging introduction to the study of commerce. These two years make up the foundation of your career in Commerce. After passing 10th standard, students are given a stream according to their grades in 10th standard. If they choose Commerce, then Kisalay Commerce Classes can guide them to the right path that best fits their potential and career goals. We give students a strong foundation in Commerce subjects like Fundamental principles of Commerce, Banking, Economics, Business Studies, and help you secure good marks in 12th grade.
Chartered Accountant: CA courses need no introduction to commerce students. The highest degree in commerce offered in India is in chartered accounting. All areas of business and finance, including auditing, taxation, financial, and general management, are covered by chartered accountants. Some work in the public sector, some in the private sector, while some are hired by organizations of the government. A professional path, a prized degree, and an admirable accomplishment.
CA-Foundation: Because of the guidance and assurance they received from FYJC and SYJC, our students take this first step confidently and well-prepared.
CA Intermediate: The dreaded CA-Intermediate level has been made understandable and attainable by our distinctive training approaches and exceptionally knowledgeable and experienced instructors.
CA Final: CA finals is the last stage in the life of a CA aspirant. We help students prepare for final exams and throughout the period of studies to ensure that they don't lack confidence.
Company Secretary: The effective management of a corporation is the responsibility of the company secretary, especially in terms of maintaining compliance with legal and regulatory obligations. Students interested in a career in corporate law should take this professional course.
CSEET: Thanks to the guidance and assurance they received from FYJC and SYJC, our students take this initial step with complete preparation and without a shred of uncertainty.
CS-Executive: The degree of difficulty in computer science that is made understandable and attainable by our distinct teaching approaches and exceptionally knowledgeable and experienced teachers.
B. Com: Bachelor of Commerce is a 3 year undergraduate program and we offer both regular and weekly classes to B. Com students to help them better understand the concepts and subjects and prepare them for semester exams.
CUET Preparations: We are the best institution for students who aspire to ace the Common University Entrance Exam CUET after 12th standard. We prepare students by different means including online classes, classroom teaching, projects, mock tests, question/answer sessions, expert tips, devising a study plan, and more.
KCC Application
We have employed the latest technologies to improve the delivery mechanism for quality education by integrating our years of teaching and student dealing experience with KCC Application to make the e-learning more effective and allow students access various features of Kisalay Commerce Classes on their fingertips.
Out of the many features offered through our App, the best ones are mentioned below:
Bookmark your lectures
Recent Playlist
Live Doubts clearing session
Live chat with teachers
Performance analysis
Parent login
Live Tests
Backup Lectures
Multiple Video options
Our Mission
Our mission is to unite "Commerce, Business & Professional Education" under one roof in order to meet the country's expanding educational needs, to give each and every aspirant a respectful, assertive distinct identity of their own, and to act as a revolutionary shift in perspective, a newfound hope & energy that is extremely stimulating & invigorating.
At KCC, we recognize the disconnect between industry and academia and provide students programs that foster their intellectual development as well as soft skill development training to enhance their leadership, interpersonal, and communication talents. Our alumni, who are experiencing success in their jobs across a range of sectors, are living proof that the hard and soft skills training that was provided had a positive impact.
Through our carefully crafted Professional programs, we provide the groundwork for students to pursue jobs in international markets. We want our students to take advantage of business and management opportunities and develop into global leaders. To guarantee holistic development, soft skill training and communication lab sessions are added to the technical competence.
Conclusion
After you make up your mind about learning Commerce, finding the best academy of commerce near me should be your next step. Getting admission at Kisalay Commerce Classes is just as simple as opening a new account on Gmail. Create your login ID and password on our official website and select a course that best suits your needs and academic goals. Good Luck!