Kisalay Commerce Classes has emerged as one of the best commerce coaching in Patna established in 2015 with a single goal to create a perfect learning ecosystem for commerce enthusiasts. For courses in CS, CA, CMA Foundation, 11th and 12th grades, as well as B. Com. And CUET, we offer the best commerce classes in Patna. For students in grades XI and XII, we specialize in offering top 겭emic and professional courses in economics, business, and accountancy.
In Patna, the capital city of Bihar State, Kisalay enjoys the position of the best in the industry for offering great achievements in both commerce and education. Our goal is to offer the best commerce coaching in Patna for 11th and 12th graders and to prepare them for exceptional career options as CS, CA and CMA. Through inspiring instruction, knowledgeable faculty, and top-notch management, we foster a welcoming learning environment for students. Be it online coaching or classroom teaching, we excel in every form of education delivery mechanism with the aid of the latest technologies and futuristic teaching methodologies engraved in our core principles.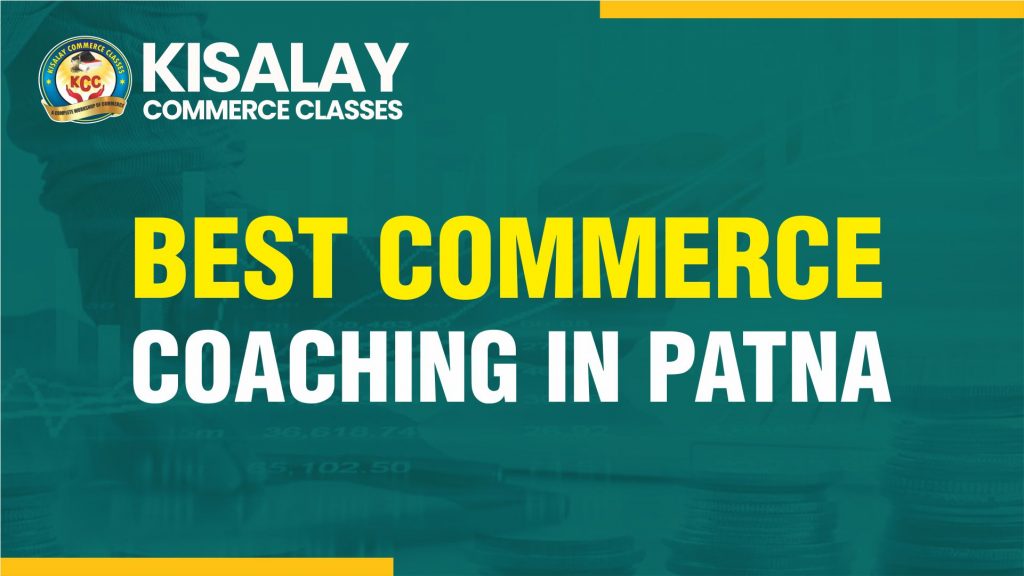 We offer comprehensive academic and professional courses in commerce with the most up-to-date curricula for Class 11th and 12th, B.Com (Hons), CA, and CMA Foundation. As the best commerce coaching in Patna, we completely adhere to the most recent CBSE and Bihar Board exam patterns. Accountancy, Economics, Business Studies, Statistics, and Mathematics are the main courses covered in the commerce stream for Classes XI and XII. For students studying commerce in grades XI and XII, we do provide a tutorial program.
Why do students in Patna prefer Kisalay Commerce Classes?
Best Commerce Coaching in Patna: With the most up-to-date curriculum, we offer the best commerce classes for all Papers of Class 11th and 12th, B. Com (Hon), CA, and CMA Foundation courses. For every course, we have the top instructors.
Online Classes: Our team of top CA Faculties offers online instruction for all 11th and 12th-grade commerce, B. COM, CA, and CMA courses. Explore your ideas with unrestricted access to online courses on a variety of subjects, including economics, business studies, and accounting. Mobile, laptop, and desktop users can effortlessly access online courses. Utilize the top study resources to learn at the best commerce coaching in Patna.
App-based learning: Each day, homework assignments and lecture notes are posted on the Kisalay Commerce App. To simply receive notifications about upcoming assignments and remarks, get the app on your mobile. We offer students up-to-date course materials and sample test questions to aid in their exam preparation. The test questions created by our knowledgeable professors and lecturers are also accessible via App. Live classes, video tutorials, recorded backup lectures, and course material, are all accessible at your fingertips.
Weekly/Monthly Test: We value consistent practice, thus we create sample test questions for the students to use as they study and get better. We test students individually either weekly or monthly to evaluate their progress. Our instructors identify students' areas of weakness and work with them to strengthen those areas.
Unlimited Doubt Clearing Session: Every Saturday, we provide our students unlimited doubt-clearing sessions. Students can keep asking their questions to professors until they are satisfied.
Additional Classes for Weak Students: To help weak students achieve better, we offer additional classes. The weaker students receive extra attention from our professors.
Multi-lingual Support: To ensure that all topics are easily understood in class by everyone, we break the Hindi and English-speaking students into distinct batches. We keep the batches as small as possible for maximum exposure of subjects. Smaller size ratios are used in our batches to ensure that every lesson is understood well. We are the best commerce coaching in Patna for students of different languages.
Best Teaching Faculty: Our faculty team includes senior teachers with more than 15 years of experience in the education sector, including professors of CA and CS. All academic and professional courses in commerce are taught by qualified instructors. They instruct students in a polished yet straightforward manner. Our teachers give weaker kids extra attention.
Interactive, tech-enabled lessons: In the current world, the need for digital classrooms with interactive technology is growing. We offer classes through Skype, zoom, and customized mobile applications that are compatible with Android as well as iOS devices. Classes are scheduled at the convenience of students.
Course fees: All course fees are quite reasonable and are well within the reach of students. Fees may be paid online in a number of ways, including GPAY, Net Banking, and others.
Results: Every year, we regularly deliver 100% results. Our students in the past have won several accolades and rewards in commerce and were crowned Bihar's top student in recent years.
Read Also- CMA Study Material 2023 ICMAI
Important key characteristics include:
A tech-enables learning environment based on activities
Individualized training
Customized programs to cater to every needs of commerce students
Regular group discussions
Attending to each student's mental health and FOMO
Flexible class timings
Courses available for learning professionals and working professionals
Outstanding faculties with innovative teaching methods
Equality & Expression Freedom
The Kisalay Commerce Classes offer the best commerce coaching in Patna and support "Every Student"! We are here to assist you in shaping your career so that you can proceed in the right direction and realize all of your goals. Join Now!
How long has Kisalay Commerce Classes been in business?
Kisalay Commerce Classes has a demonstrated track record of producing Bihar's top students for more than 7 years and enjoys the reputation of the best commerce coaching in Patna.
Does Kisalay Commerce Classes offer a platform for online learning?
For students who cannot travel to Patna for their preparation, the Kisalay Commerce Classes has its own application on the Google Play Store, which promotes excellent learning.
Do Kisalay Commerce Classes use the most recent textbooks?
Yes, Kisalay Commerce Classes uses the most recent NCERT textbooks and adheres to the most recent curriculum. Additionally, it offers study materials and notes that were created by qualified faculty in Commerce, including CAs and CSs.
A Final Note: Best Commerce Coaching in Patna
Selecting the best commerce coaching in Patna can be crucial to your career. While there are numerous coaching centers in Patna that make claims to offer the top commerce coaching, only a few of them genuinely live up to those claims, such as Kisalay Commerce Classes.
One of the best commerce coaching in Patna that may truly help you advance your career in commerce is offered by the Kisalay Commerce Institute. As a result, we continue to be ranked as the best commerce coaching in Patna with years of expertise. It goes without saying that this institute has a history of generating toppers each year and has demonstrated outcomes with top rankers in Patna.
With a Pan-India online presence, we offer commerce coaching to anyone who wants to excel in this field of study regardless of where they live or what language they speak. Finally, we may draw the conclusion that Kisalay Commerce Classes should be your first choice if you're looking to enroll in the best commerce coaching in Patna for preparation for the XI or XII grades, B. Com, CA, CS, or CMA exams, or even preparing for the CUET exam.