The majority of students choose to study Commerce after 12th – one of the most popular streams in India. They wish to pursue careers as CAs, CSs, bankers, financial managers, and other professionals in the industry. However, it is essential to achieve high marks on the Class 12 Board test in order to pursue these courses. These will ultimately determine your career path, assisting you in realizing your goals. Therefore, it is important to know about effective study techniques for commerce students to ace the exams.
In this article, we will share with you some of the most valuable study tips for 12th commerce exams and how to make the most out of your study time to ensure maximum exposure to the syllabus and subjects. You can also get to know about note-taking methods among other methods especially tailored to meet the study demands of commerce students.
Below are some of the universal rules of studying that one should inherit in his or her daily study programs for commerce:
General Study Techniques for Commerce Students
Test your limits
One of the most notable study techniques for commerce students is to keep challenging yourself. Always set new goals for yourself and work hard to surpass them. Let's say your prelims score was 80% and you want to achieve a higher mark, like between 85 and 90%. Your goal must be to beat your last exam's score. Additionally, concentrate on raising the overall percentage of scores in each topic.
Focus on the main syllabus
Adhering to a study technique for commerce students that rejects reference books and professes to stick to the main syllabus is the smart move. Reference books can be intimidating even if they are a great source of information. Many pupils have a propensity to neglect the core curriculum while placing more value on reference materials. Experts advise sticking to the primary texts and making sure you study every page of them. Use the main syllabus books as your Holy Bible, even if you are referring to 12th Commerce manuals.
Solve as many test papers as possible
It goes without saying that analyzing past years' test questions provides a wealth of knowledge about the types of questions that are most likely to be asked during the exam. But when working on these papers, pace yourself like you would in an exam, and finish the whole thing in one sitting.
To improve accuracy, speed, and time management, we advise tackling test questions from the previous 10 years or more. This is one of the most essential study techniques for commerce students.
Revision is the key
The value of revision cannot be overstated. Reread each chapter in each subject, even if you have finished studying the syllabus and solving previous years' exams. To be able to do this, make sure to finish all of your subject preparation roughly 2-3 months prior to the exam. Then, solely utilize this time to revise. Revision with diligence will boost your self-assurance and make you thorough in all subject areas.
You can improve your Board preparation by paying attention to the aforementioned study techniques for commerce students. But here are some additional pointers to help you with your Class 12 Commerce studies as per the subjects: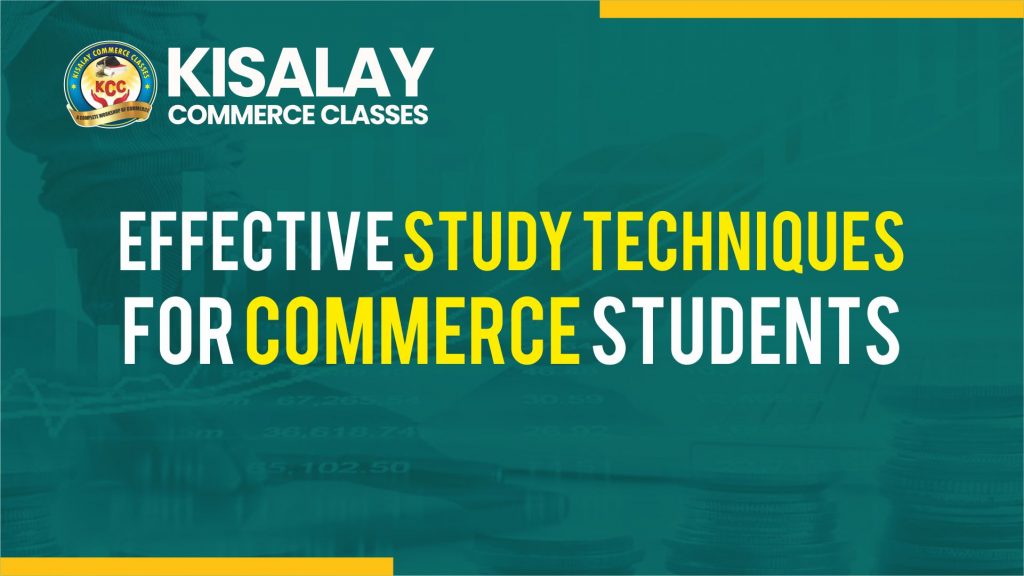 Subject-wise Study Techniques for Commerce Students
Accounting:
Everyone is aware that Accounting is the foundational subject for the Commerce stream. As a result, accounting theories must be correct and available at all times.
Keep a journal handy at all times since it is essential.
You should pay particular attention to chapters like Cash Flow Statements, Partnerships, and Company Accounts because these are crucial.
At all costs, understand the formulas rather than memorizing them.
It is crucial to understand the Ledger, Trial Balance, and Balance Sheet formats. Giving them in the right format will result in high marks.
Practice is the key to accounting. The more you practice, the better you become at something. Solve as many sample papers as possible from prior years.
Both the theoretical and the practical are crucial. So pay attention to it.
Working notes are crucial to use as evidence for your responses when appropriate. So give them enough time as well.
Business Studies:
4 Study Techniques for Commerce Students
Business Studies is a broad academic subject; as such, it calls for suitable rewriting.
Make brief notes to review the lessons before the test. Every time, finishing the exam books might be taxing, so start putting together quick notes that will help the students review the full syllabus in a shorter amount of time.
Use the mnemonics to help you remember the topic or points.
Present the answers into the points on a regular basis because lengthy passages may irritate the examiner and result in a lower grade.
Economics:
Handwritten notes are usually simple to understand and review, therefore they make for the finest preparation for this subject. Your notes are your best bet when you study for this topic because the syllabus is so broad.
There are several diagrams in macro- and microeconomics, and while good drawings are necessary, identifying them is equally crucial.
The language and concepts used in this area vary widely. You must therefore thoroughly prepare for the differences. In order to distinguish them correctly, you must also show them in a tabular format.
We have stressed this before, but it bears repeating. Solve past years' exam papers to better understand the format and pattern of the current one.
Mathematics
In order to perform well in the mathematics subject, you need extra practice. Solve NCERT papers or any other reference books to increase your level of confidence.
Make it a routine to practice arithmetic problems every day.
Try to answer as many questions as you can from the sample tests from prior years.
English
Regardless of the stream you are in, you have to put in a lot of extra effort to do well in this topic. At least three times before the test, attentively read the textbooks and novels.
Try to pick up at least 5–10 new words each day, and utilize them in your writing and daily interactions. Additionally, maintaining legible handwriting is crucial.
Solve increasing numbers of problems from test questions and sample papers from the previous year.
Time Management Skills for Commerce Students
While some people find it challenging to manage their time, others do so more effectively because they possess particular skills. It takes practice to get used to a strict schedule if you want to manage your time well. These time management techniques can be incorporated into your regular routine.
Find out what time of day is perfect to study.
Make realistic plans.
Own your work.
Don't bite more than you can chew.
Plan ahead.
Be flexible.
Follow the timetable below:
Benefits of Time Management
It increases your productivity
It keeps your work organized
Positive effect on health
More time for extracurricular activities
It helps in stress reduction
No last-minute cramming of the syllabus
How do you manage time effectively?
Make a daily agenda or timetable with all the chores that need to be completed.
Get up early and divide your tasks.
Take brief breaks while studying or working on your activities.
Do not put off completing tasks; focus on one at a time rather than multitasking.
Obtain enough rest.
Give your work your entire attention.
Eat a nutritious diet.
When studying, try to avoid all distractions (such as television and mobile devices).
How to take notes for commerce students to excel in 11 and 12 exams?
During preparation, making your own notes will be really helpful. You can create your own notes by adhering to the straightforward advice provided here.
First, make an effort to define each subject or issue in your own terms.
To make it easier to grasp, include the details under each concept.
Create headings to remember the key concepts
To make it simpler to identify words, essential terms, or headings, use various coloured pens.
Try to summarize the information in the textbooks.
Create simple-to-remember flowcharts for key concepts.