There are tons of courses available passing class 12th with Commerce. The majority of the students choose B.Com (Bachelor of Commerce) to get graduated in this field and later think of jobs and careers etc. Well, there may be a better option than this. Here in this article, we will get to know about the Job Oriented Courses after 12th Commerce that one can pursue to make a better career in a respected field.
Apart from the Courses and their details, we will also understand the complete roadmap to land a better job or business etc.
Visit us- Best Online Commerce Coaching in India
Job Oriented Courses after 12th Commerce:
Here is the list of top 20 courses after 12th Commerce that one can opt to make a career in the respected field:
Bachelor of Commerce (B. Com)
Bachelor of Economics (BE)
Bachelor of Accounting and Finance (BAF)
Bachelor of Commerce in Banking and Insurance (BBI)
Bachelor of Commerce in Financial Market (BFM)
Bachelor of Business Administration (BBA)
Bachelor of Business Administration – International Business (BBA-IB)
Bachelor of Business Administration – Computer Application (BBA-CA)
Industry Oriented Integrated Courses
Chartered Accountancy
Company Secretary (CS)
Cost and Management Accountant
Journalism and Mass Communication
BCom (General)
BCom Marketing
BCom Tourism & Travel Management
BA in Humanities & Social Sciences
BA LLB
BDes in Design
Diploma in Education (DEd) etc.
Well, B.Com is the most pursued course after passing class 12th with Commerce. It may be because of the course structure and its fees structure etc. But, if you are looking for high-paying courses after 12th commerce. Here are the top three courses that you have an option to opt for:
Top 3 Courses after 12th Commerce:
The Courses that have been shared below are known to be the toughest Courses after 12th Commerce. But, these are some high-paying career options for commerce students that make them land a better job.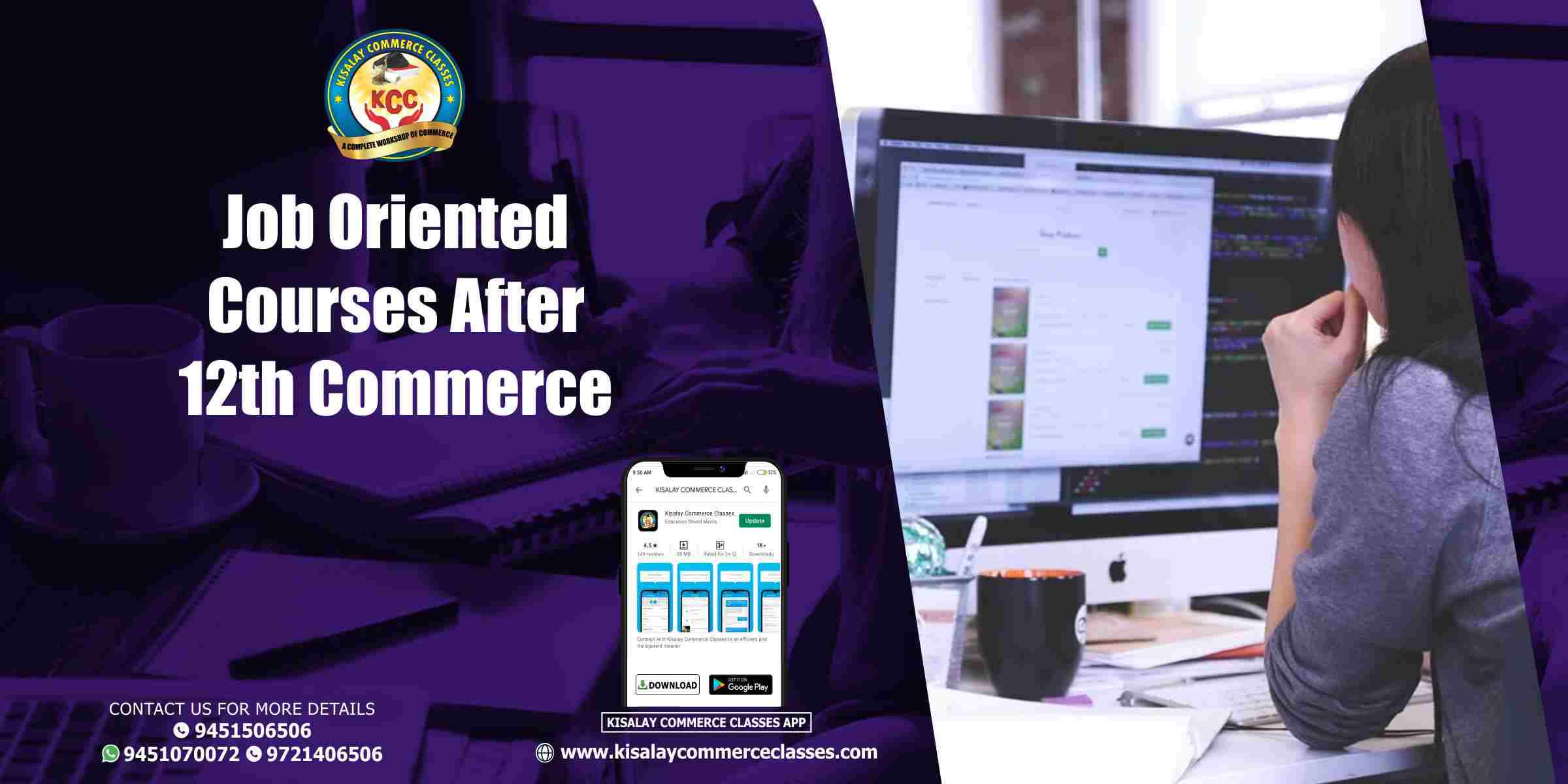 Charted Accountant (CA):
One of the foremost prestigious and standard career possibilities for commerce students, accountant (C.A), is associate internationally Recognized Professional Certification conducted by the Institute of Chartered Accountants of India (ICAI).
In Accounting chartered job Course may be a Professional one. With the accelerated growth in the economy, careers have gained tremendous quality in finance and accounts and therefore the most powerful Career possibility in this field is that of an accountant.
The job profile of a CA is to examine if the monetary affairs of firms and businesses are in accordance with the laws set by govt. authorities. One has got to with success end chartered job course to become a CA and become a member of ICAI (Institute of Chartered Accountants of India).
Chartered Accountant calculative Tax chartered accountant's work involves taxation, auditing, monetary coming up with, investment, and accounting. Once doing chartered job career prospects are exciting.
Chartered Accountants are members of the Institute of Chartered Accountants of India. They add the accounts dept. of companies and organizations or in private practice. In private practice, the variety of labour will vary hugely as per the dimensions and place of application. If it's an enormous active firm there's a bigger specialization of individual accountants among the organization.
Career Opportunities for CA
In government and personal organizations, you'll be able to notice Professional opportunities in roles like tax consulting, auditing, finance, investment banking, etc. once a number of years of expertise, you'd even have the choice to line up a non-public application.
Educational Path to Pursue CA
After 12th Commerce, to become an accountant you need to travel through the subsequent steps:
Step 1: Register yourself with the ICAI, and clear the Competency Professional Test (CPT).
Step 2: Clear the Integrated Professional competency (IPC) Course by communicating with one or each team.
Step 3: For 3 years have to be compelled to endure article ship beneath an active C.A or a C.A firm.
Step 4: Once or throughout the completion of your article ship, clear the CA Final to achieve your CA certification.
Company Secretary Program (CS):
One of the powered and powerful job profiles is Corporate Secretary. Each company desires a corporation secretary for its economic administration. In an exceedingly public sector organization or a non-public sector company, a corporation secretary may be a senior position, commonly within the variety of a social control position or on top of it. To become a CS. One has got to seem for the corporate berth course and clear the exams related to the course. The ICSE (Institute of Company Secretaries of India) is conducting the CS course.
The Company Secretary's job profile is to take care of the particulars with regard to guaranteeing legal and statutory compliance, economic administration of a corporation, and governance-related problems like guaranteeing that the selections of the board of administrators are enforced. Their job involves giving recommendations on conducting business, developing a company strategy, addressing things involving conflict of interest, aiding in coming up with, suggesting ways to arrange monetary reports, and advising on company law.
Career Opportunities for CS:
You can work with each public and personal sector organizations and render services in areas like company governance and help, legal, conciliation and arbitration, company restructuring, joint ventures and foreign collaborations, monetary management, project coming up with, company informatory services, capitalist relations, and capital market, etc.
Educational Path to pursue CS:
The 3 levels of the CS course are because of the following:
Foundation Course
Intermediate/Executive Course
Final/Professional Course etc.
After the accomplishment of the Professional course of CS and fifteen months of coaching, the coed is joined as an associate member of the ICSI and known as an Associate Company Secretary. Higher leadership, communication, and problem-solving skills intercalary with acceptable expertise will lead you to the highest positions like a manager or the chairman of any organization.
Cost Management and Accounting (CMA):
With accounting skills and leadership competencies, price Cost Management Accountants (CMA) are strategic monetary management professionals. Generally, a price accountant's job is to gather and analyze the monetary info from all the areas of a corporation needed to manage the business among the obtainable resources.
Formerly, ICWAI (Institute of price & Works Accountants of India may be a Premier establishment of India that is often referred to as the Institute of price Accountants of India (ICAI) that offers education and develops the good price accountants that are eminently demanded within the non-public enterprises, govt. sector, banking & finance sector.
Like CMA, the CS course has additionally been divided into 3 stages:
CMA Foundation
CMA Intermediate and
CMA Final.
With the expansion of the economy, on national moreover, as international platforms demand for price management professionals are rising chop-chop.
These are the top-level courses after 12th Commerce to get a high-paying career. But, always choose courses as per your interest and capability. So, this was all about the Job Oriented Courses after 12th Commerce. Make sure to gain more and more knowledge about the course whichever you are about to choose and then opt for its preparation or admission.
Visit us-CA Final Registration Process 2022
Certificate Courses:
Tons of certificate & diploma Courses after 12th Commerce is available that are purely job-oriented and it won't be that tough to get a job after the completion of the course.
Diploma Program in Financial Management
Certificate Program in Digital Marketing
Diploma Program in Business Management
Diploma Programs HR Management
Diploma Program in Wealth Management
Certificate Program in Data Science
Certificate Program in IT
Diploma Program in Project Management etc.
Well, these courses after 12th Commerce may land to a better job but there is no better career growth if you do not have at least a bachelor's degree in the related field.
Find your interest and passion and choose accordingly. Each and every field is better and can pay you better. You just have to choose the right course that suits your passion & personality etc.
FAQs For Courses after 12th Commerce
Which Job has the highest salary in commerce?
There are many but if we count the top 3 jobs that have the highest paying are Charted Accountant, Investment Banker and Certified Public Accountant etc.
Which Course has the best scope in Commerce?
The Charted Accountant is always on top. Apart from that, Cost Management and Accountant, BBA, Journalism and Mass Communication and Company Secretary etc.
Can A Commerce student appear for Civil Service Exam?
Yes, A candidate who has done a bachelor's in any respected field with 50% marks is eligible to apply for the CSE.