Ratan TATA said," I need MBA for running my business.., But CA to teach them how to run the business". Such is the weightage and value CA holds. Almost every panel has a CA who are the decision-maker, conceives the idea of the business, Structures, formulates, and regulates the norms,
Career Opportunities After CA in India is very wide, A chartered accountant works in all fields of business and finance, including auditing, taxation, and financial and general management. Some are engaged in public practice work; others work in the private sector, and some are employed by the government of India.
A Chartered Accountant is useful for growing the economy of the country. With deep knowledge in the stock market, Forex, law matters and finance taxation every chartered accountant has knowledge different from each other. They make every person in understanding the rules and guidelines.
ICAI has a placement portal on its website for CA-qualified members and partially qualified CA students. Wherein they have campus placement events and advertising through its professional journals and website, which creates multiple Career Opportunities After Becoming A CA in India.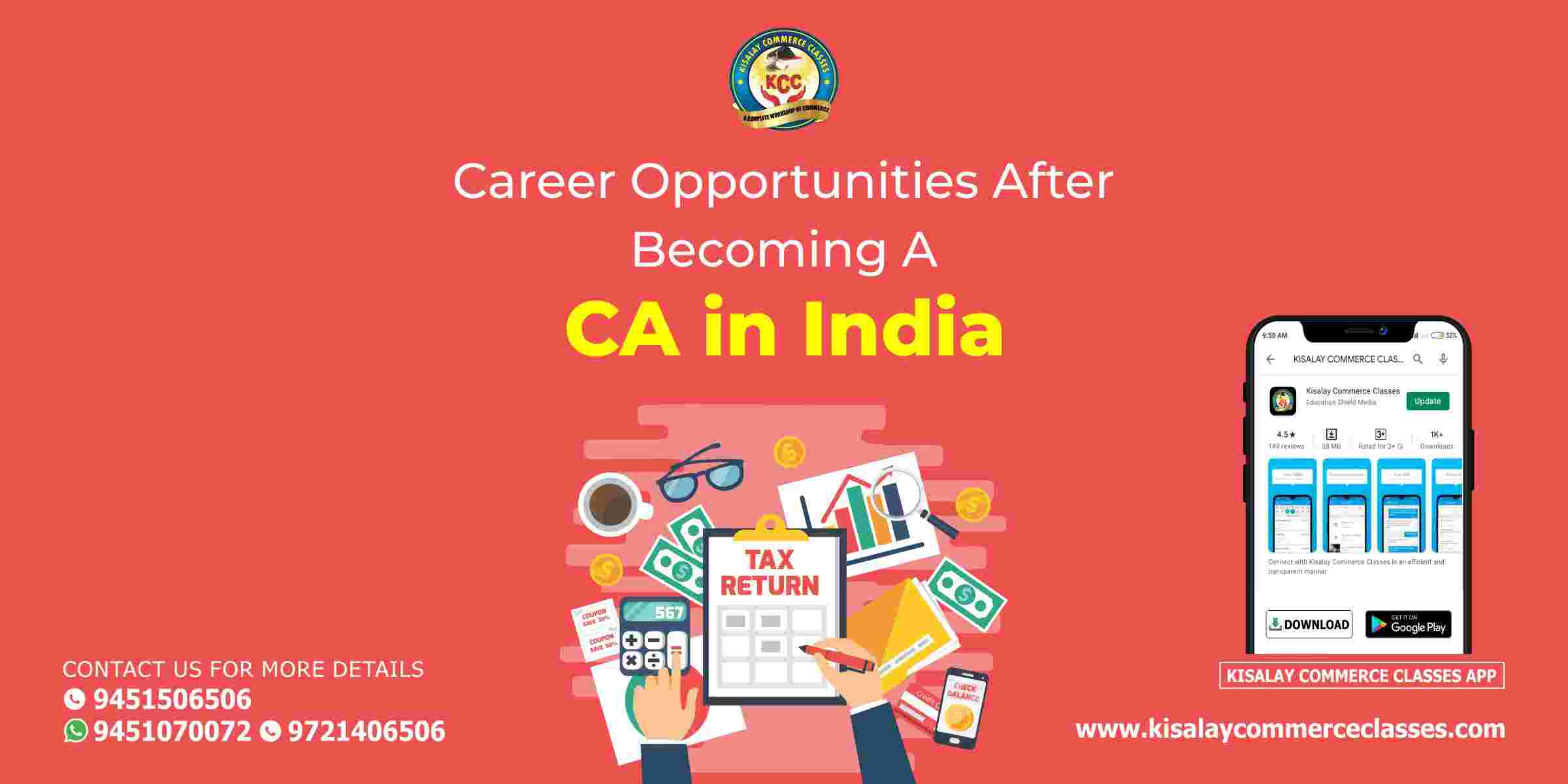 In early 2010, the ICAI placed three of its freshly qualified Associates, at a record annual salary of US$260,000 each, at Singapore-based agriculture supply chain major Olam International.
Post completing CA, you are qualified to get a decent job for yourself in MNC's or in any govt department apart from this you can also become a job giver by owning a CA firm, here you must decide what you want to opt or become. Once you are a member of the Institute of Chartered Accountants in India (ICAI) You will be the choice maker regarding your career. And as you already know the fact that not a single company or industry exists where CAs are not required.
Career Opportunities After CA in India are listed below
The basic eligibility to start with CA course is to be qualified in the Senior Secondary Exam with a minimum aggregate of 50% marks, Now let's further understand the Career Opportunities After CA in India in details below.
Visit- CA Course Details
Self-Practice / Consulting- A CA can work or self-practice as a proprietor or by registering an association firm and be a tax consultant wherein a present their client towards various authorities like income tax, Central excise, Registrar of Companies, and service tax department etc. CA can also take up government assignments and audits related to taxation, accounting, and other financial matters.
Business /Entrepreneurship- If you are interested in answering a market demand through the creation of a new product or service, after becoming a CA you can also startup your own new company for that. We have seen examples in India where in after becoming CA they have joined the startup league.  Dhruv Shringi, co-founder & CEO Yatra Online is a similar example of a successful CA Entrepreneurs
Visit us- Know 8 Reasons Why Most Students Quit CA
Govt Jobs-  Here are multiple job opportunity for a CA in Government department, only you must do is apply on the vacancy on the department's portal, give exams and clear them
Work at MNCs – You can also find Career Opportunities in MNC's After Becoming A CA as financial controllers, CFO's, Account Managers, Credit Managers, Internal Audit Department, Preparation of Financial Statements, Designing of Internal Finance Controls, Managing Treasury function, MIS Report Preparation, work on profiles like Transfer Pricing, Tax Audit, Advisory & Consultancy (Both Direct and Indirect) & International Taxation, Statutory, Internal, Forensic Auditing, GST Audit, ROC/IT/GST return Filing, Information Systems Audit, Debt Syndication, Project Finance, Valuation, Equity Research, Asset, Management, Portfolio Management, Analyst, Strategist etc.
Make a career in Stock Market- Share Market is just like a big sea where in there are several job opportunities such as that of a broker, advisor, portfolio manager, research analyst, investment banker, relationship manager, professional investor, and trader, Being A chartered accountant are allowed to trade in equity shares (and not their derivatives) on an individual basis and proprietary basis. You cannot do it on behalf of clients as this was not allowed when one is engaged in a CA practice or opt for other roles for you.
International opportunities- CAs are in highly demanded in UAE, Singapore, Australia. International packages for a Chartered Accountants can easily hit at 75 lakhs per year and ICAI is taking every possible effort by setting higher standards, by signing MOUs with different countries which creates overseas Career Opportunities After Becoming A CA as well
Teacher- After having cracked one of the toughest courses, who else can guide better than a CA himself!! Considering the complexity and voluminous of the curriculum, you can become a guide/mentor /Teacher or even start your own institute.
Software Development- If a CA has technical brilliance and domain knowledge and a bit tech-savvy, then can consider developing customized software to ease of complexity in field of accounting. You can explore opportunities with accounting software like SAP, Oracle, ERP, or develop a customized AI. With Ind AS being rolled and amendments being made, become the expert, try to develop a tool which meets the standards. Tally ERP is one such example, which was developed by a CA
"CAs in India are technically far superior but accounting now is not just about technicality. It is also about identifying and solving problems.  Value is given to those CAs who can be trusted as advisors and who understand the dynamics business".
Maybe the path to become a CA is a bit rough but post qualification it is studded with diamonds. Opportunities are many, it's about how you position yourself.