Finding the best coaching institute for Chartered Accountancy CA in Bihar might be difficult, especially if you have just cleared 12th grade from Commerce. However, there are countless CA coaching centers in the area as a result of the state's growing need for CA professionals. Yet not all coaching centers for CA in Bihar are up to the mark and provide poor quality education due to a shortage of qualified faculties, poor integration of technologies, infrastructural deficiencies, lack of student network, and incompatible class timings. These are enough reasons to hinder the progress of prospective CA aspirants, forcing them to seek other means.
But fear not, as CA aspirants can reach out to Kisalay Commerce Classes anytime and from anywhere in Bihar without leaving the comfort of their homes. They don't need to be present in person. But that's not it.
What makes Kisalay the best CA Coaching in Bihar is our ability to deliver world-class education through online classes, live-streaming videos, and mobile applications. With a student base of thousands of satisfied pupils seeking a career in the Commerce sector, Kisalay Commerce Classes has a strong footing in Bihar backed by the latest technologies and seasoned staff to ensure unhindered delivery of quality education.
Why choose Kisalay Commerce Classes for CA preparations?
Kisalay Commerce Classes is one of the top online CA Coaching in Bihar. Since it began offering CA coaching to students a few years ago, the institute has aided many students in realizing their aspirations of becoming CA professionals.
KCC is proud to be more than just instructors for our students; we also serve as career consultants and are actively involved in their strategic decision-making processes. We are dedicated to giving our students every advantage we can so they can achieve their goals. Because we recognize the value and significance of both time and money, we take great care to hire only the best tutors in the field and to grant access to our specialized module system. Additionally, candidates have a reliable way to monitor their advancement.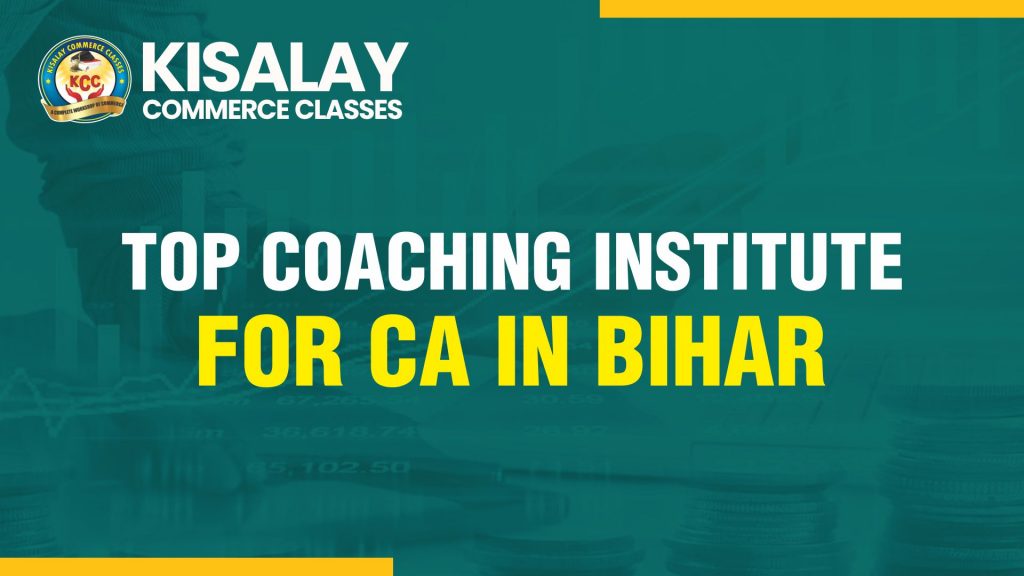 Just visit our website www.kisalaycommerceclasses.com and check out the various courses we offer online and the major feats we have achieved since 2015.
With 12 qualified teachers, we offer classes in multiple batches with a student-teacher ratio of 15:1 to ensure maximum exposure to subjects and topics.
So far we have served 11650 students out of which 8675 students have expressed deep satisfaction with our teaching methods and convenient delivery mechanism.
Our alumni network is a living testimony of our ability to deliver promises of a better future. We served them with opportunities to work in large MNCs and corporate houses with a lucrative salary package.
We have employed several mediums to deliver lectures and conduct weekly tests from OTT platforms, live streaming, and mobile applications, to recorded lectures and online/offline classes.
We are a recipient of Achiever's Award for Best Career Counseling From I-Next
Our economical CA program is affordable to all, making it easy to receive quality education without breaking the bank.
Read Also- Best Commerce Coaching in Bihar for 11th or 12th exams
Check out the benefits of attending online classes with Kisalay
Individual Attention
Industry-compatible and job-oriented courseware
Highly qualified teachers
Adaptive and flexible class timings
Online accessibility of books and course materials
Guest lectures from industry stalwarts
Placement opportunities
Low-cost education
Quality features of mobile app for an effective e-learning
Superior quality content
Live courses and study material
Interactive video lessons
Live assessment/doubt-clearing sessions /live chat
Smart classes
Backup Lectures
Parent login
What makes our faculty the best in the industry?
They are the best in the industry because they know the best of the industry.
The faculty at Kisalay Commerce Classes is made up of a group of people with a wealth of experience and expertise, making them well-suited to give students the direction and encouragement they need to succeed academically.
Numerous students pass the CA examinations with high marks each year, thanks to the efforts of our faculties attesting to Kisalay Commerce Classes' success. They give pupils a thorough study schedule, frequent assessments, and individualized attention to make sure they are well-prepared for their exams.
The learning atmosphere at Kisalay Commerce Classes is just as great as the faculties delivering lectures here.
CA (Chartered Accountant) Syllabus
CA-Foundation
Principles & Practice of Accounting
Business Laws and Business Correspondence
Business Mathematics, Logical Reasoning & Statistics
Business Economics and Business Commercial Knowledge
CA-Intermediate
Group.-1
Accounting
Corporate & Other Laws
Cost Accounting
Taxes (Direct & Indirect)
Group.-2
Advance Accounting
Auditing & Assurance
IT and Strategic Management
Financial Management and Economics for Finance
CA FINAL
Group- 1
Financial Reporting
Strategic Financial Management
Advanced Auditing and Professional Ethics
Corporate and Economic Laws
Group-2
Strategic Cost Management and Performance Evaluation
Elective Paper (One to be chosen from the List of Elective Papers) Risk Management/Financial Service & Capital Markets/ International Taxation/ Economics Laws/ Global Financial Reporting/Standard/Multi-Disciplinary Case Study
Direct Tax Laws & International Taxation
Indirect Tax laws
Wrapping Up
Kisalay Commerce Classes is one of the top online CA Coaching in Bihar. It is the ideal institute for students as well as working individuals who want to excel as CA professionals owing to its exceptional faculty, instructional methods, and track record of success.
Kisalay Commerce Classes provide cost-effective CA tutoring without sacrificing the standard of instruction. Deserving students can also take advantage of their numerous scholarship programs and financial aid.