Are you a commerce student preparing for your 11th or 12th exams in Bihar? Look no further! Kisalay Commerce Classes is here to provide you with the best commerce coaching experience. With a proven track record of success, experienced faculty members, and comprehensive study materials, Kisalay Commerce Classes is the perfect destination for commerce students aiming for academic excellence and Best Commerce Coaching in Bihar for 11th or 12th exams
Why Choose Kisalay Commerce Classes?
Reputed Institution: Kisalay Commerce Classes stands out as one of Bihar's leading coaching institutes for commerce education. With a strong reputation for delivering excellent results, our institution has become a preferred choice among students and parents.
Experienced Faculty: Our team of highly qualified and experienced faculty members are dedicated to providing quality education and guidance to our students. They are experts in their respective fields and have a deep understanding of the commerce curriculum.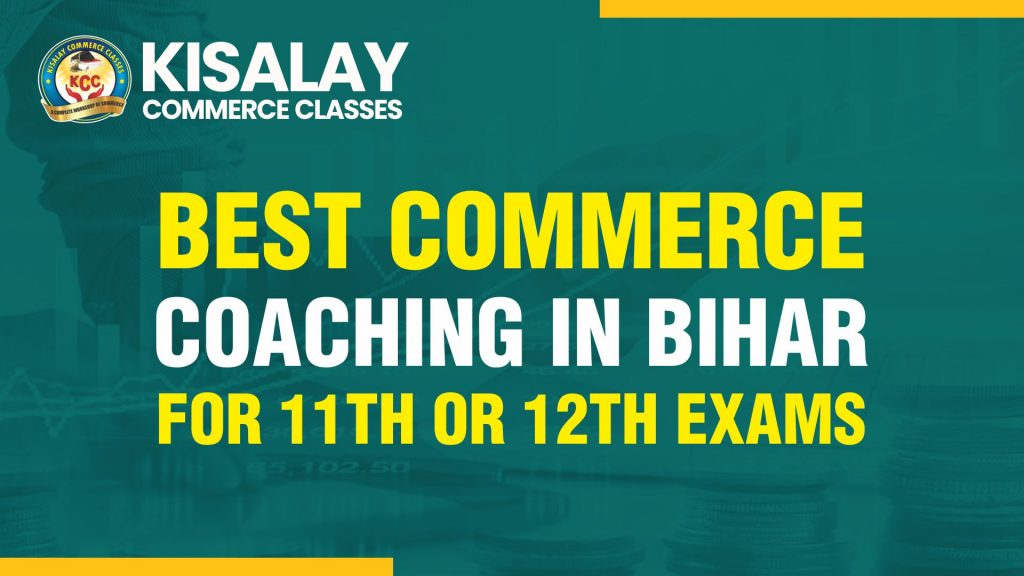 Comprehensive Study Materials: At Kisalay Commerce Classes, we believe that the right study materials play a crucial role in a student's success. That's why we have developed comprehensive study materials that cover every aspect of the commerce syllabus. These materials are regularly updated to align with the latest examination patterns and changes in the curriculum.
Personalized Attention: We understand that every student is unique and has different learning needs. That's why we focus on providing personalized attention to each student, ensuring that they receive the guidance and support they require to excel in their studies. Our small batch sizes enable our faculty members to address individual doubts and queries effectively.
Courses Offered
11th Grade Commerce Coaching: We provide specialized coaching for students in the 11th grade. Our courses cover all the subjects of the commerce stream, including Accountancy, Economics, Business Studies, and Mathematics.
12th Grade Commerce Coaching: Our 12th-grade commerce coaching is designed to provide comprehensive preparation for board exams as well as entrance exams for commerce-related courses. We offer coaching for Accountancy, Economics, Business Studies, and Mathematics.
Features of Kisalay Commerce Classes
Regular Mock Tests: We conduct regular mock tests to assess students' progress and help them identify their strengths and weaknesses. These tests are designed to replicate the actual exam environment, enabling students to gain confidence and improve their time management skills.
Doubt Clearing Sessions: We understand that students often have doubts and queries while studying complex commerce concepts. To address this, we conduct regular doubt clearing sessions, where students can seek clarification from our faculty members.
Exam-oriented Approach: Our coaching methodology is designed to ensure that students are well-prepared for their exams. We cover the entire syllabus in a systematic manner, focusing on key concepts and exam-oriented topics.
Career Counseling: Apart from providing excellent coaching, we also offer career counseling sessions to help students make informed decisions about their future. Our experienced counselors guide students in choosing the right career path based on their interests and aptitude.
Read Also- How to Study 12th Commerce Online
Contact Us
To enroll in our Commerce Coaching in Bihar programs or to know more about Kisalay Commerce Classes, visit our website: www.kisalaycommerceclasses.com You can also reach out to us through the following contact numbers:
+91-9451506506 +91-9721406506
Get on the path to success with Kisalay Commerce Classes! Start your journey towards a bright future in the field of commerce.