After completing your 12th-grade year, choosing the proper career path is an important choice that will determine the course of your professional life. Students in different commerce streams have a wide range of opportunities, including jobs in the banking, business, management, and financial services industries. Understanding your own strengths, interests, and objectives is the key. Here, we offer a thorough list of different commerce streams for students following their 12th year, each with its own opportunities and difficulties. There is a path that's ideal for you whether you have an analytical mind, an aptitude for management, a love of law, or a flare for art. Let's analyse these options in depth.
Different Commerce Streams for students after 12
Bachelor of Commerce B. Com
The most common course that students take after finishing their 12th-grade education is this degree. The degree program lasts three years and includes classes in accounting, statistics, management, human resources, computers, economics, and other subjects. You can swiftly join this UG degree program in different commerce streams such as accounting, banking, taxation, finance, based on the results of your class 10th and 12th board exams.
The course structure for the B. Com degree is not particularly challenging, so students who want to specialize in other areas can readily practice and pursue other courses. In the Commerce stream, while Accounting, Business Studies, and Economics are mandatory subjects, Mathematics is optional. Owing to this, B. Com specialization in different commerce streams after 12th is categorized into two sections:
Bachelor of Commerce with Mathematics
Bachelor of Commerce without Mathematics
Students who studied commerce with mathematics in classes 11 and 12 have the option of pursuing a B. Com Honours degree, whereas those who did not have that option may pursue a B. Com General degree.
Top Courses after 12th Commerce with Mathematics
B. Com (Honours)
B. Com Accounting and Taxation
B. Com Statistics
B. Com in Management Accounting & International Finance
B. Com in Accounting
B. Com Applied Economics
B. Com Banking & Finance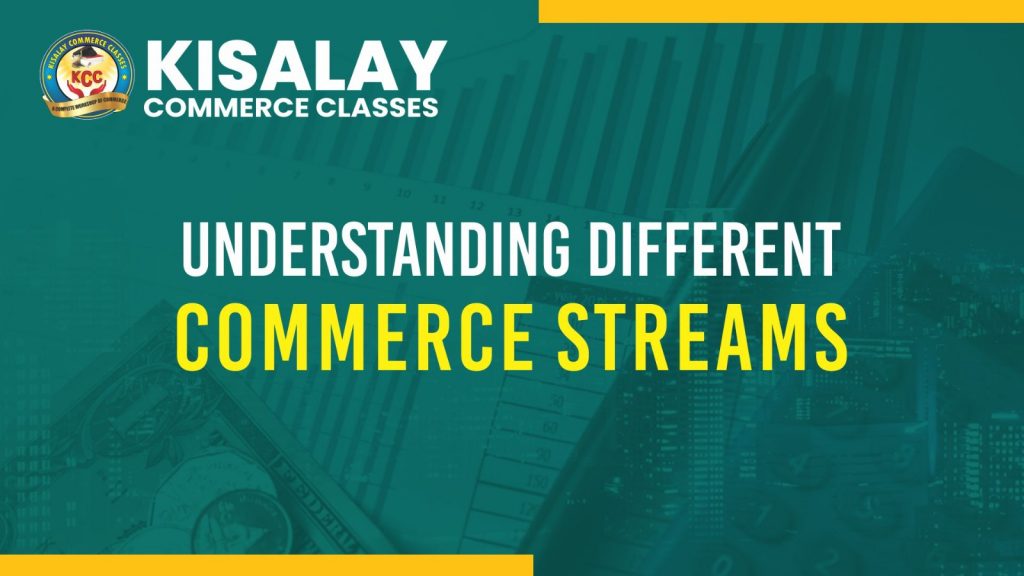 B. Com Accounting and Taxation
If you intend to work in banking or insurance, enroll in the B. Com Accounting and Taxation course is best among different commerce streams. Among the topics covered in the course are the Indian Tax System, Financial Accounting, Financial Accounting, Management Principles, Value Added Tax and Central Tax Procedure, and Business Communication. B. Com Accounting and Taxation graduates can work as account executives, bank managers, income tax officer, etc.
B. Com Statistics
With a B. Com Statistics, there are numerous prospects for economic study and analysis. Many people opt to work for government agencies, the civil service, data analytics, consulting firms, and educational institutions. Data analysis, demography, biostatistics, applied statistics, applied information economics, and corporate statistics are among the topics covered in the course.
B. Com Accounting
For those who want to pursue jobs in Chartered Accountancy, Company Secretary, or competitive banking exams, the B. Com in Accounting is the best option. Among the topics covered in the course are financial management, cost and management accounting, business mathematics and statistics, economics, principles of marketing, financial accounting, and the business regulatory framework. It also discusses the functioning of the Indian financial system and financial markets. B. Com Accounting jobs include Tax Consultant, Company Secretary, Accountant, Bank Manager, Financial Analyst, Business Executive, Finance Manager, etc.
B. Com Banking and Finance
The B. Com Banking & Finance course covers all aspect of the BFSI industry, including banking, banking law, insurance law, insurance risk and regulation, accounting, etc. After earning a degree in B. Com Banking & Finance, one may select careers in auditing, analyst, equities management, wealth management, account management, stockbroking, market analysis, etc.
B. Com in International Finance and Management Accounting
The B. Com International Finance and Management Accounting is a good option if one wants to study international business at the graduate level. The training covers both the CMA (Certified Management Accountant) and international business. This degree holders can pursue jobs as Accountant, Operations Manager, Lecturer, Financial Analyst, Finance Manager, Account Executive, Executive Assistant, Chartered Accountant, etc.
B. Com Applied Economics
This B. Com specialization equips students with a theoretical understanding of a wide range of Applied Economics topics and teaches them how to critically analyse problems and solutions in the economic environment. The course syllabus includes topics on microeconomics, macroeconomics, public economics, and Indian economic development. Jobs in this specialization includes Deputy Director, Senior Economist, Indian Economic Service, Senior Officer, Financial Analyst, Financial Director, Business Analyst, Investment Banker, etc.
Top Courses after 12th Commerce without Mathematics
B. Com (General)
B. Com Business Administration
B. Com Marketing
B. Com Tourism & Travel Management
B. Com General
The B. Com (General) degree is one of the most popular options for students who want to study commerce without math after high school. Students who desire to pursue a vocational degree in-person while still completing a bachelor's degree through correspondence and distance learning particularly enjoy this course.
B. Com Business Administration
The B. Com in Business Administration is an option for those who desire to work in management and business administration. The course covers a variety of topics, including business management, corporate accounting, business law, marketing, company organization, corporate law, business communication, retail management, etc.
B. Com Marketing
Through this B. Com specialization, the student receives training in the methods and techniques for planning and supervising the marketing activities of a company. There are many employment choices available for persons with a B. Com in marketing because marketing is one of the four foundational elements of any commercial firm. There is a high demand for marketing degrees across all industries.
B. Com Travel and Tourism Management
The B. Com in tourist & Travel Management focuses on the tourist sector. In this course, students receive both academic and real-world business expertise. Students also study about the financial significance of tourism, its influence on the global economy, environmental law, customer service, and international travel restrictions in addition to business operations and other business foundations. They research tourist management as well.
Major Professional Courses after 12th Commerce
Every student immediately wonders: "Which professional course should I choose after Class 12 Commerce?" When applying to colleges, Commerce students must carefully consider their choice of post-secondary courses, whether they are academic or vocational. After thoroughly researching the course being chosen, one needs to make an informed choice.
Cost and Management Accountant (CMA)
Like the CA program, The Institute of Cost Accountants of India offers this degree as a professional program. Similar to CA and CS, the curriculum is organized into levels that students must pass in order to advance much like CA and CS. Compared to different commerce streams, CMA enjoys a reputation above B. Com or LLB. After passing this course, students must have knowledge of and training in areas including cost and management accounting, the basics of commercial and industrial law, laws and ethics, etc.
Business Mathematics and Statistics
Laws and Ethics
Accounting
Economics
Management
Company Accounts and Audit
Operation Management Information System
Business Strategy & Cost Management
Chartered Accountant
Becoming a CA is the ultimate dream of commerce students in life. The title of chartered account is given to students by the Institute of Chartered Accountants of India after they complete their 12th-grade commerce stream. The program contains several levels of examinations. The program is divided into 3 sections and one needs to clear every round to qualify as a CA. CA is one of the top options available if you're pondering over different commerce streams after your 12th-grade education.
CPT (Common Proficiency Test)
IPCC (Integrated Professional Competence Course)
FC (Final course)
When compared to bachelor's degrees, this course's overall difficulty level is relatively high. The CA title and one of the top careers in commerce are available to students who successfully complete this certification.
Accounting
Cost Accounting and Financial Management
Advanced Accounting
Taxation
Auditing and Assurance
Business Laws
Ethics and Communication
Information Technology and Strategic Management
Corporate and other Laws
Company Secretary CS
The company secretary program is managed by the Institute of Company Secretaries of India (ICSI), not the CA. Students in commerce who are interested in legal theory courses would prefer this course.
Similar to the CA course, there are levels in the CS professional program that students must go through in order to achieve the final level. Students learn about commercial contracts and legal proposals in this course. In multinational corporations, you will eventually be able to climb to top positions.
The program is divided into 3 levels:
Foundation
Executive
Professional
Subjects
Business Environment and Law
Business Management, Ethics and Entrepreneurship
Business Economics
Fundamentals of Accounting and Auditing
Jurisprudence, Interpretation & General Laws
Corporate & Management Accounting
Company Law
Securities Laws & Capital Markets
Economic, Business, and Commercial Laws
Tax Laws
Financial & Strategic Management
Post-secondary banking courses in Commerce
Students can select from a wide variety of banking courses depending on the type of banking career they want to pursue. Let's examine the banking courses that are available to students of commerce.
Bachelor of Business Finance and Banking
Diploma in Banking Laws
Bachelors in Banking and Insurance (BBI)
Diploma in Actuarial Science
Unique courses after 12th commerce
LLB Courses
Digital Marketing
Graphic design
Interior design courses
Aviation courses
Conclusion
I hope you can now select a commerce course based on your interests, skills, and career path among the ones that are offered. Before selecting from different commerce streams that is best for you, you can thoroughly research these options. The most significant step in developing a successful career is making a properly considered course choice.