Are you in search of the best career options after 10th in Commerce? Well, you are where you need to be. This blog goes into detail on professional courses in commerce, what it takes to have a successful career in commerce, etc. as well as the greatest career options after 10th in Commerce, both with and without math. Choosing which of the three primary streams—Sciences, Humanities, or Commerce—they want to pursue for the next two years as well as a potential profession is one of the most important decisions for students between the ages of 15 and 16 years old. It is only natural to be uncertain and to seek out all available information in an effort to make the best choice because this choice will determine how you will live for the next several years. Now that you've made up your mind to study commerce, this blog offers a thorough overview of the professional career options after 10th in Commerce available to you.
Depending on your interests, you can select from a range of options including accountancy, finance, banking, business studies, economics, management, media, marketing, etc. After finishing the tenth grade, many commerce students choose to enroll in diploma programs.
Why Opt for Commerce After the Tenth Grade?
The commerce stream is one of the most extensive areas of study, offering students a variety of multidisciplinary specialities. Commerce covers a wide range of disciplines and domains from business and management to media and marketing, from which students can select. Here are the main reasons to select career options after 10th in Commerce to help you avoid making the wrong choices:
The commerce stream offers a wide range of professional degrees, and its core courses in accountancy, economics, and business studies aid in giving students a solid foundation in the business and corporate worlds. After earning your 12th grade diploma in commerce, you can apply for some of the most prestigious and well-paying professions in the field, including company secretary, chartered accountant, financial analyst, and many more.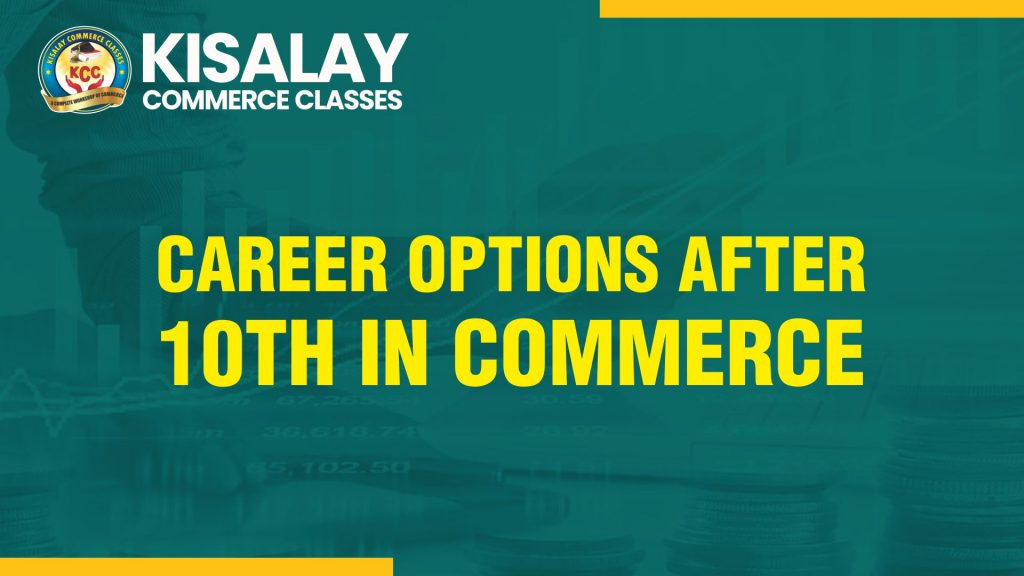 A wide number of topic combinations and interdisciplinary specialities in management, economics, business, and other fields make up commerce. A job in finance is beneficial for you if you are good with numbers. On the other hand, career options after 10th in Commerce offer a ton of management courses available in fields like marketing management, media management, event management, fashion management, hotel management, and more if you are curious about how business organizations function and can effectively multitask and manage different things.
As a highly sought-after career path, commerce creates a special combination of business theories put into practice as the principles and fundamental concepts you learn about business and management are put to real-world experiences when you get to learn about decision-making and problem-solving in various situations in a business environment.
Career Options after 10th in Commerce
If a student wants to pursue a career in commerce following class X, there are numerous employment options available. The list of topics for study after class XII Commerce (With or Without Math) includes the following:
Chartered Accountant (CA)
Company Secretary (CS)
CFA (Chartered Financial Analyst)
Actuary/Surveyor
LLB (5 years)
Preparing for National/State level entrance exams like IAS (UPSC), RBI Grade B officer, Bank PO, SSC CGL, State PSC, Bank Exams, etc.
CMA (Cost & Management Accountant)
BA Economics
B. Com
BBA
Bachelor of Management Studies
Career Options after 10th in Commerce without Maths
If they believe they lack the interest in or aptitude for mathematics, many students select commerce without it. Many students also have a tendency to be sceptical of the chances that come their way when picking their paths. They worry that if they don't choose mathematics, their prospects for future employment in the field of commerce will be limited, but this is a wrong perception. After completing your tenth grade in commerce, you have a variety of course options to choose from, all of which provide excellent employment opportunities. Some of those are mentioned below:
Bachelor of Commerce (B. Com)
Nearly all commercial institutions offer this three-year course, and several of them even include an Honors program for students who haven't studied mathematics after the tenth grade. You can choose to specialize in banking, retail management, international trade, etc. with a B. Com degree.
Bachelor in business administration (BBA).
A variety of BBA specializations are available, including finance, marketing, accounting, and human resource management. Additionally, it is an undergraduate degree that takes three years to complete. It is recognized internationally and equips students with the fundamental managerial and business abilities.
Bachelor of Management Studies (BMS)
After the 12th grade, people interested in managerial degrees in commerce often look at the BMS course. It has a strong emphasis on management studies since it gives students a thorough understanding of managerial theories and ideas as well as the essential communication and job-related skills they need to consider higher-level careers in this area.
Bachelor of Hotel Management
For individuals looking to explore one of the profitable career options after 10th in Commerce, the bachelor of hotel management is another well-liked program. This course gives students the necessary information and abilities to develop a fulfilling career in hotel management, a subject that is always changing and has a wealth of bright job options available!
Career options after 10th in Commerce with math
Apart from pursuing the courses in Commerce stream without Mathematics as core subject, students can also choose to pursue Commerce courses with mathematics to enhance their chances of employment. Several people still choose commerce with the option of mathematics in an effort to not limit their options. These consist of
BA Economics
BA English Literature
BA Mathematics
Bachelor of Business Studies (BBS)
BBM Course
B. Com Hon
BA in Statistics
BSc Statistics
BSc Economics
BBA in Aviation
BBA in Marketing
BBA in HR,
BBA in Logistics
BA LLB:
BBA LLB
B. Com LLB
BBA MBA Integrated Course
BA Culinary Arts
Bachelor of Hotel Management
BSc Hotel Management
Bachelor of Catering Technology
BHM in Culinary Arts
Bachelor of Elementary Education
Career options after 10th in Commerce: Professional degrees
You have the option of enrolling in a variety of professional courses in addition to the degree programs available. You can get ready for them in high school and later in college, then finish them to earn your diploma. You can get a jump start on the career of your dreams by enrolling in a professional degree program. Among the professional training programs available are:
CFA Course (Chartered Financial Analyst)
To Conclude
Career after 10th in Commerce entails a wide range of prospects for lucrative jobs as well as higher education. After completing 10th grade, students choosing commerce (with or without Maths) as a desirable field of study should keep in mind that it leads to many lucrative career paths but success is only guaranteed if you put your hundred percent in your studies. Regardless of what career path you choose, there is always room to engage in additional professional courses to become more employable. So choose well and study hard to make a difference in your career. Good luck.