Becoming CA is the dream of most commerce students but only very few of them get to live their dream. CA is a highly admired and aspired profession but CA exam is a tough nut to crack. Despite its difficulty level, its popularity level is quite high. Any business organization is almost nothing without the guidance and supervision of a CA. The importance and significance of a CA are much. This makes CA a highly aspired profession. CA is a professional course equivalent to a PG degree.
It is conducted by Institute Of Chartered Accountants Of India which, a statutory body. Students can opt this course after passing 12th. This exam is conducted 2 times in a year. The job of CA is related to accounts, taxes and audit. This exam/course and job includes a lot of practical and numerical work. So, students who are strong at practical and numerical part, should go for this exam. This exam is divided into three levels – 1) Foundation 2) Intermediate 3) Final. A Chartered Accountant works as financial and tax advisor besides accounting and auditing.
The first step in becoming a CA is to qualify CA Foundation exam unless and until you are exempted by the provisions of ICAI. The base idea of smart work for qualifying CA foundation exam lies in understanding what to study and what not. Therefore, what matters in CA foundation is not the quantity of matter but the quality of study materials, learning and revision.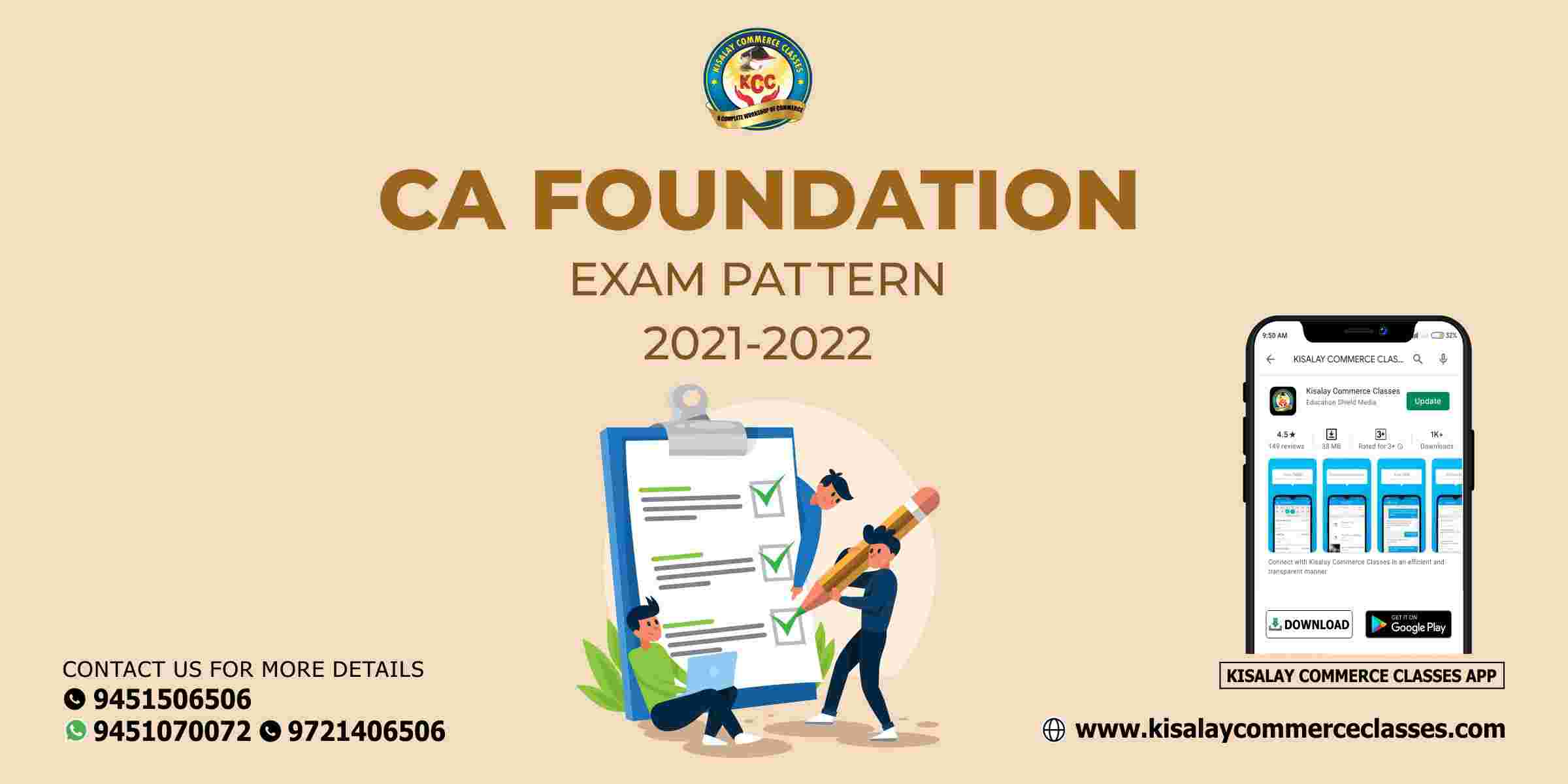 HOW TO REGISTER
Candidates have to pay some amount for enrollment in CA Foundation course and exam which is conducted two twice in a year – June & December. And candidates have to register online on the official website of the Institute of Chartered Accountants of India (ICAI) for the CA Foundation Course.
CA FOUNDATION EXAM PATTERN
CA Foundation has 4 papers. They are:
Paper 1) Principles and Practice of Accounting (100 marks) – Subjective
Paper 2) Business Laws, Business Correspondence and Reporting (100 marks) – Subjective
Paper 3) Mathematics, Logical Reasoning & Statistics (100 marks) – Objective
Paper 4) Economics, Business and Commercial Knowledge (100 marks) – Objective
Bifurcation of Marks:
Paper 1) Principles and Practices of Accounting (100 Marks)
Paper 2) Mercantile Law & General English (100 Marks) –
Part I: Mercantile Law (60 Marks) · Part II: General English (40 Marks)
Paper 3) Business Mathematics and Logical Reasoning & Statistics (100 Marks)
Part I: Business Mathematics and Logical Reasoning (60 Marks)
Part II: Statistics (40 Marks)
Paper 4) Business Economics & Business and Commercial Knowledge (100 Marks)
Part I: Business Economics (60 Marks)
Part II: Business and Commercial Knowledge (40 Marks)
CA Foundation exam is of 400 marks and has 4 papers and each paper carries 100 marks. Paper 1&2 are subjective whereas 3&4 are objective. There is no negative marking for paper 1&2 but paper 3&4 carry negative marking which is 1/4. Minimum 40% marks in individual paper and minimum 50% marks in aggregate are necessarily required to qualify the CA Foundation exam. Paper 1&2 will be of 3 hours and paper 3&4 will be of 2 hours. The exam is conducted in offline mode.
The medium of the exam is either English or Hindi except for the Section (b) of paper 2 which will be compulsory to be taken in the English language only.
 CA FOUNDATION EXAM SYLLABUS 2022
PAPER–1: PRINCIPLES AND PRACTICE OF ACCOUNTING
Theoretical Framework
Accounting Process
Bank Reconciliation Statement
Inventories
Concept and Accounting of Depreciation
Accounting for Special Transactions
Final Accounts of Sole Proprietors
Partnership Accounts
Financial Statements of Not-for-Profit Organizations
Introduction to Company Accounts
Basic Accounting Ratios
PAPER – 2: BUSINESS LAWS, BUSINESS CORRESPONDENCE & REPORTING
BUSINESS LAWS
The Indian Contract Act, 1872
The Sale of Goods Act, 1930
The Indian Partnership Act, 1932
The Limited Liability Partnership Act, 2008
The Companies Act, 2013
BUSINESS CORRESPONDENCE AND REPORTING
COMMUNICATION
Communication
SENTENCE TYPES AND WORD POWER
Sentence Types (Direct-Indirect, Active -Passive Speech)
Vocabulary Root Words, Synonyms, Antonyms, Prefixes, Suffixes), Phrasal verbs, Collocations and Idioms.
COMPREHENSION PASSAGES AND NOTE-MAKING
Comprehension Passages
Note Making
DEVELOPING WRITING SKILLS
Introduction to Basic Writing
Precise Writing
Article Writing
Writing Formal Mails
Resume Writing
Meetings
PAPER -3: BUSINESS MATHEMATICS, LOGICAL REASONING & STATISTICS
BUSINESS MATHEMATICS
Ratio and Proportion, Indices and Logarithms
Equations and Matrices
Linear Inequalities with Objective Functions and Optimization w.r.t. objective function.
Time value of Money
Sequence and Series
Sets, Relations and Functions
Basic applications of Differential and Integral calculus (Excluding the trigonometric applications), Applications of Marginal Cost and Marginal Revenue etc.,
 LOGICAL REASONING
Number series, Coding and Decoding and odd man out.
Direction Tests
Seating Arrangements
Blood Relations
Syllogism
 STATISTICS
Statistical description of Data
Measures of Central tendency and Dispersion
Probability
Theoretical Distributions
Correlation and Regression
Index Numbers and Time Series
PAPER – 4: BUSINESS ECONOMICS AND BUSINESS AND COMMERCIAL KNOWLEDGE
 BUSINESS ECONOMICS
Introduction to Business Economics
Theory of Demand and Supply
Theory of Production and Cost
Price Determination in Different Markets
Business Cycles
BUSINESS AND COMMERCIAL KNOWLEDGE
Introduction to Business
Business Environment
Business organizations
Government Policies for Business Growth
Organizations facilitating Business
Common Business Terminologies
Besides, completing the syllabus, activities like reading blogs, news of general awareness, news related to trade, commerce and industry, commerce magazines, journals, research papers prove to be helpful in cracking the CA foundation examination. And while reading keeps in mind the CA Foundation Exam Pattern.
Plan
Failing to plan is planning to fail. Mismanagement and chaos leads to failure. Plan your routine, your studying hours, studying manner and even plan your future years. Planning is a lubricant that smoothens the functioning of our life. Plan as per CA Foundation Exam Pattern.
Coaching
The guidance of an expert is of utmost importance. You cannot do study and understand everything on your own. So, do some research work and choose the best coaching available. This will save your energy going in vain due to the pressure of doing everything on your own and will lessen your burden and enhance your studying and learning capacity.
Mentor
Aspirants should very wisely choose a good mentor. A student can rely on his mentor rather wandering here and there. And only he should be trusted upon rather than trusting and relying upon other unauthentic sources.
Make your own notes
No one other than you knows you better so don't go for anyone else's handwritten notes except for the notes of your coaching institution. For an efficient, long-lasting and smarter understanding and learning make your own notes in your own style and format, which you think will help you in deep understanding, concept building and quick revision.
Revision
Allocate some time for your daily revision and try to revise 2-3 times before you appear in your examinations. Revision gives you a deeper and crystal clear understanding. Revise as per CA Foundation Exam Pattern.
Solve mock tests and past question papers
Solve mock tests and practice question papers as frequently as possible and that too in an examination hall atmosphere. It can either be done daily or weekly. Mock tests help you in ascertaining weaknesses and mistakes. If done in a progressive manner and with a positive approach it improves you with every passing mock test. Solve mock tests as per CA Foundation Exam Pattern.
Analyze your strength and weaknesses
Knowing your strength as well as weakness is very important in order to qualify for any examination. Self-assessment should be done on the basis of performance in mock tests and practising previous question papers. You should rectify your errors work on your weak portion of your studies and improve it.