If you are looking for the Best CA Intermediate Coaching in India. Your search ends here. The Kisalay Commerce Classes is the one that train and educate the student for CA (Charted Accountants). With the advanced faculty and very experienced professionals, we are able to provide the best education and make the students able to clear the exam.
There is nothing in the preparation that KCC Professionals left that could stop students from the selection. Join the KCC Classes and get trained under the guidance of the experts who are ex-CA, Cost Accountants etc. It would be all easy for one to get trained with us.
Best CA Intermediate Coaching in India:
The CA Intermediate Classes of KCC are conducted in offline and online mode. Within the five months course period, we'll cowl finishing the CA Intermediate syllabus on time and later conjointly conduct three Mock take look series for every subject.
With quality teaching from tough academics, frequent practising with the CA Intermediate papers supported ICAI patterns, and customized steerage to every aspirant, KCC has become one of the Best CA Intermediate Coaching in India.
Visit us- How to Prepare for CA Intermediate Nov 2022
KCC CA Intermediate Course Details:
| | |
| --- | --- |
| Eligibility | Intermediate/Graduate Cleared or Attempted |
| Object | To Develop the understanding of the subject according to ICAI Pattern. To improve the answer patterns according to the exam. To indicate the missing and leakage from exam pattern. Students can improve 20 marks per subject by appearing in Mock tests. |
| Medium | Separate Batches for Hindi & English Medium Students. |
| Course Duration | 5 Months |
| Course Material | Hindi & English Module as per the medium of students provided by KCC (Kisalay Commerce Classes) |
| Mode of Classes | Online and Offline |
| Offline Classes at | Allahabad (Prayagraj) |
| Mock Test | 3 Mock Test series for each subject |
The CA stands for the toughest exam worldwide. It would be very to clear the exam if you are not prepared well for it. Join the Best CA Intermediate Coaching in India and get trained in a better manner.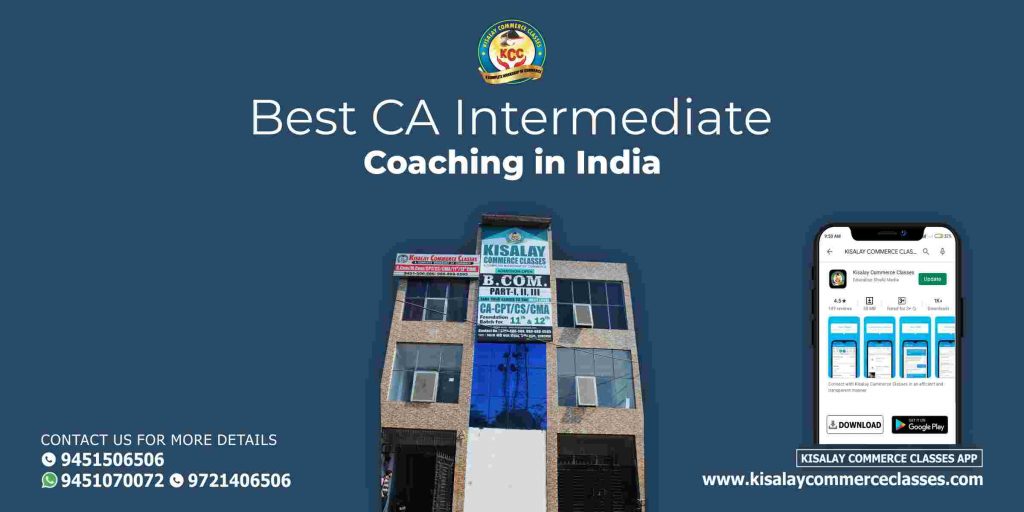 Visit us- CA Foundation Course Details 2022
CA Intermediate Preparation at Kisalay Commerce Classes, Allahabad:
We provide the foremost effective CA Intermediate Course for the students who want to prepare for the upcoming CA Intermediate exam. Kisalay Commerce Classes work regularly provides updated and amended study material that's handcrafted by a team of Expert professionals.
Our team of experts always allows students to self-study at the academy which leads them to prepare better. All the Faculty of Kisalay Commerce Classes are extraordinarily qualified. Most of our qualified are charted Accountants or Company secretaries or Cost accountants etc. who are having experience of decades in professional teaching.
It would be easy for the students to urge trained well with us. Join the Best CA Intermediate Coaching in India and get trained well. Interested Students can register for our CA Intermediate Course. Students may additionally register for the foremost effective online course for CA Intermediate.
Why Choose KCC over others:
CA is a 3-level examination planned by the Institute of Chartered Accountants of India – CPT, IPCC, FC. An accountant could be a designation that's given to a knowledge of accounting and taxation. It's one of the most robust exams in the world. To crack such a competitive level of Examination, you need to be part of a training Institute that helps students enhance the talent set required by ICAI.
Our expert professionals assist students to produce advanced data about the CA Intermediate course and make them able to pass the exam. Our advanced study pattern for CA Intermediate Course helps students to develop analytical skills to answer smart and theoretical queries in a very given amount.
Join the Best CA Intermediate Coaching in India and be able to clear the Exam. The Kisalay Commerce Classes solely aim to coach the students until they pass the test and pursue their dream courses. You will never regret joining us.
FAQs For CA Intermediate Coaching in India
How Many attempts are allowed for CA Intermediate?
The registration Validity is for 5 years and one can appear twice a year. So the maximum number of attempts is 10 times.
Which is the toughest subject in CA Intermediate?
The audit is considered to be the toughest subject in the CA Intermediate. It is not one subject, it is Accounting, Corporates and Laws that help in understanding the audit.
Can CA Intermediate be done without coaching?
Yes, it can be done, one just has to choose the right study material and proper mentor to guide throughout the process.