CUET is the examination that is conducted at the national level to offer admission to students in undergraduate courses. Under the CUET, there are multiple central universities are there including Delhi University, JMI, AMU, and BHU as well as many other CUET Colleges and Universities 2022-23. If you are looking for the Best CUET Coaching Classes in Allahabad to prepare for the exam. You must join the academy that has the capability to prepare you for the CUET 2023 Examination.
Within Allahabad City, there are many coaching that offers preparation for the exam. But, you have to join the institute that offers dedicated preparation for the CUET only. This is the exam that needs top-level preparation.
Join the Best CUET Coaching Classes in Allahabad:
It is easy for the Competitive coaching institutes to add one more batch for the CUET. But, it is suggested not to join those institutes for preparation. You have to join the Institute which has a dedicated team for the preparation.
Join the Kisalay Commerce Classes and get yourself prepared in a higher manner and stand out from the crowd. The KCC is the one that stands for the Best Commerce Coaching in Allahabad. We are known for our level of education.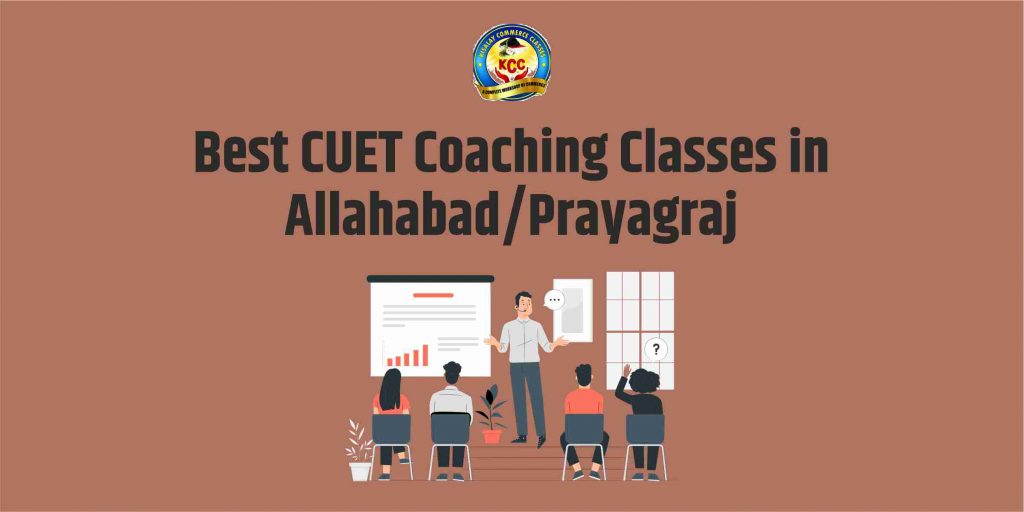 We make sure in every manner to prepare our students in every different aspect and make them able to score high as possible. Our team of professionals are experts in the field and have decades of experience in the field of teaching.
We have complete ideas about what to teach and how to teach. If you are not sure about your preparation. All you need is to contact the Kisalay Commerce Classes and start your preparation in the right manner.
Kisalay Commerce Classes:
The Aim of the Institute is to prepare the students for CUET 2023 Examination in a better manner and make them able to clear the exam. We offer education to the CUET Science Stream, and Commerce Stream as well as for the CUET Arts Stream etc.
Having 10 years of experience in the field.
Achiever's Award from I-Next
Personal attention is given to every Student
Regular Classes Online & Offline
Better study materials offered that have been designed by the experts.
Smart Classes
100% Growth
Well-furnished Infrastructure
Join the Best CUET Coaching Classes in Allahabad and make yourself stand out from the crowd. You can also check the KCC's CUET Plan for Education.
We just did not aim to finish the CUET Syllabus. We make sure in every manner to offer the best preparation at any cost.
Our team of experts has also prepared study materials that are dedicated to CUET 2023. You don't have to look for any other study material. Our books are more than enough for your preparation. Join us and become able to clear the CUET on the first attempt. Here are the details about our mode of education.
KCC's Mode of Education:
A candidate has the option to join us Online or Offline. The Level and the type of education are completely the same. If you are comfortable joining the Offline CUET Coaching Classes in Allahabad, Join us at George Town or Join us there or can join us online from anywhere in India.
We make sure to offer Superior Quality Content
Best Live Course & Study Material
Interactive Video Lesson
Study and anytime & anyplace etc.
Online Classes are more one-to-one education that allows you to prepare better for the exam. In order to make our Online Classes more productive. We have launched our own Application which has multiple features:
Option to Bookmark your Lecture
We conduct Live Doubts/Live Chats
Option for Performance Analysis
Your Parent can also Log in
Mock Test for better practice
You can make a Backup of your Lecture etc.
To start your preparation for the CUET 2023 Examination. All you need is to join the KCC's CUET Coaching Classes in Allahabad. Join us and get yourself prepared much better for the Exam.
FAQs For CUET Coaching Classes in Prayagraj
Can I Clear CUET without Coaching?
It can be done but if you are new to the field and have never prepared for any competitive exam. It can be very tough for you.
Which is the Best CUET Study Material?
There are many books available in the market that can be used for the preparation. But choose the books which are dedicated to the CUET 2023 Preparation.
How Many hours should I study for CUET 2023 Exam?
If you have studied well in your school. You just need to study for at least 3-4 hours a day to get prepared better.