The CMA (Cost Management Accountant) is a top-level examination that needs dedicated preparation to clear the exam. There are tons of CMA Coaching in Delhi that claim to be the best for CMA preparation. But it is always better to choose the right mentor for your preparation who can guide you throughout the process and make you able to clear the exam on the first attempt.
Nowadays Online Classes are the easiest and most affordable way to prepare. You can connect yourself with the right mentor from any part of the world and prepare accordingly for the exam. In the Offline Classes, you can only get mentors from Delhi only. Do not limit yourself to this. Choose the right mentor for your preparation.
Best CMA Coaching Institute in Delhi:
Delhi is the city where tons of educational institutes for CMA Coaching in Delhi etc. Some Institutes are there just to earn cash and nothing else. They just aim to finish the CMA Syllabus somehow.
It is all about the time and your future choose the right Institutes that could prepare you in a manner to beat the competition. Any Coaching Institute never teaches you, there are teachers who are responsible. Look for the Institute that has a team of experts for the preparation.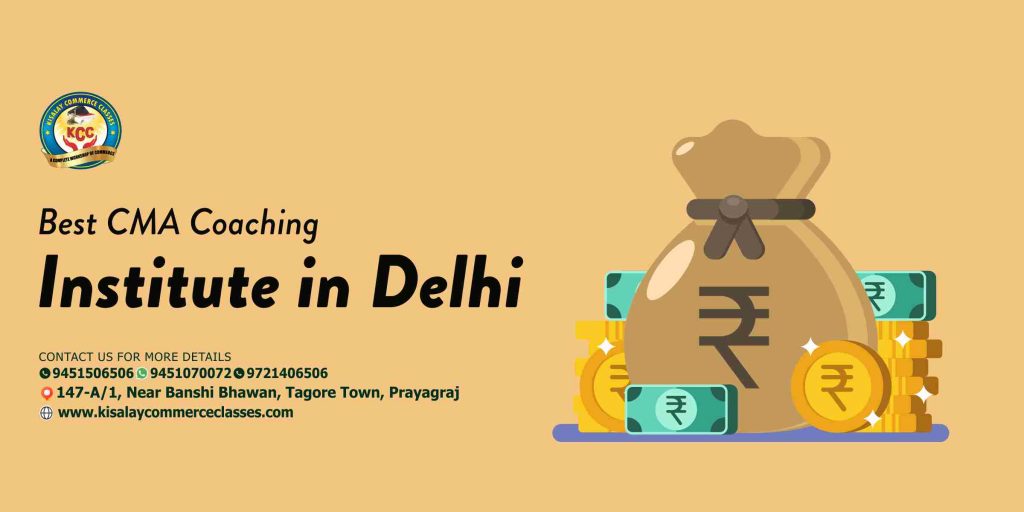 The Kisalay Commerce Classes is a reputed coaching institute in India that offers the Best CMA Coaching in India. We offer Online as well as Offline Classes to the students. But, focus more on the Online Classes as it saves the time of the students and then can prepare in their own comfort zone.
Kisalay Commerce Classes:
The Kisalay Commerce Classes aim to provide advanced and unique ways of teaching and training that make our students stand out from the crowd. We are here to earn cash, we are here to train our beloved students in a better manner and make them able to succeed in their lives.
The CMA is an exam that needs an extreme level of preparation. We have a team of CA (Chartered Accountants), CMA (Cost Management Accountants) and CS (Company Secretary) who has over decades of teaching experience in this particular field.
It is all easy for us to train and educate the students in a better manner and make them able to clear the exam with flying colours. Join the Best CMA Coaching in Delhi and Start your Success Journey with us.
Our Modes of Teaching:
We Offer Offline as well as Online Classes to the students. Our way of teaching is unique which makes us better than the rest. Our Online Classes have been designed in a manner to offer more one-to-one preparation among teachers and students. Our modes of teaching are:
Cloud
OTT Platform
Live Streaming
Recorded Lectures
Or Join Offline Classes etc.
We take care of the student's preparation in every manner like providing them with the right study material that has been handcrafted by a team of experts. Our Professionals have invested years to build the right study materials that offer the best preparation for the CMA Exam.
Not just the study material, we also focus on the practice sets that are designed accordingly by the team of experts to offer the best practice in every manner. Join the KCC's Online CMA Coaching in Delhi and get the best preparation.
Visit us- Best CMA Foundation Coaching in India
Join KCC Online for the Best CMA Coaching in Delhi:
The CMA is one of the toughest exams in the world. The passing rate of the exam is around 43% worldwide. In order to clear such a level of competitive examination. A candidate needs to join the Best CMA Coaching in Delhi that helps students enhance their skills as required by the ICMAI.
The KCC is the one that understands the level of preparation that a candidate needs to have to clear the CMA Exam. Join Online or Offline and get yourself trained in a manner to clear the CMA on the first attempt.
We have integrated our years of teaching experience in creating a better E-learning platform. It becomes easy for students to get Online CMA Coaching in Delhi at an affordable cost. We have designed our own application that is compatible with any every smart device. It has multiple features like:
Bookmark your Lecture
Recent Playlist
Live Doubts/Live Chats
Performance Analysis
Parent Login
Live Test
Backup Lecture
Multiple Video options etc.
Join us online and get the Best CMA Coaching in Delhi. There is nothing that we left in the preparation that could stop our students. We are very practical and focus on smart work as well as on hard work.
How to Join KCC's CMA Online Course:
In order to join us online, you can visit the official website of the Kisalay Commerce Classes or can also call the KCC Official to get more details about the course and its registration process etc. We offer preparation to some limited students. Make sure that you are one of them.
FAQs For Best CMA Coaching in Delhi
How Many attempts are allowed in CMA?
There is no restriction on the number of attempts but after a particular time, you may have to renew your CMA registration.
Is Delhi best for CMA Preparation?
There is no state that can be considered as best for preparation for any exam. It is just the teacher and you who are responsible for the best preparation.
Can I prepare for CMA at Home?
The preparation can be done if you are aware of it difficulty level of the exam and preparation tactics. Or you can simply join the KCC's Online Classes and prepare by sitting at your home.